Twitter's Top Comedian Megan Amram Has Got This Whole Trump Thing Figured Out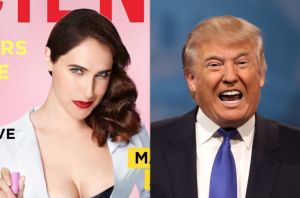 In the world of Twitter comedians, it's impossible not to mention Megan Amram among the very best and most popular on the social media medium. The Tweeter-turned-author landed a gig as a writer for Parks & Rec on NBC after being discovered for her insanely creative jokes in 140 characters or less. Although her Twitter feeds tends to focus on non sequiturs and comedic deconstructions of popular jokes, she seems to have figured out what's really going on with the phenomenon of Donald Trump.
Amran took to her favorite platform late Sunday to blast off to her 503K Twitter followers her take on what's responsible for the real estate mogul's rise to the top of the Republican party:
Trump is a plant by the NRA to make liberals want to shoot someone

— Megan Amram (@meganamram) May 16, 2016
It's not the first time that Amram has weighed in on the Trump Train, recently joking at the expense of Trump's itty-bitty hands:
Donald has to eat taco bowls because his hands are too small to hold an actual taco https://t.co/JeWNWNBpM8

— Megan Amram (@meganamram) May 5, 2016
She even aimed her comedic chops at former GOP candidate Ted Cruz not long after the Texas Senator announced that he was formally suspending his bid for the White House:
Now that Ted Cruz has dropped out of the race, he's going back to his previous job, asking weary travelers riddles from under a bridge

— Megan Amram (@meganamram) May 5, 2016
In December, the popular comedian wrote a piece for The New Yorker aimed at Americans looking to leave the United States facing the possibility of a Trump presidency. In the piece, titled "To Those Fleeing President Trump: Welcome to Canada!," Amram wrote, "Make yourselves at home. You're going to be here a while—traversing that wall that President Trump built between America and Canada seems extremely treacherous." Amram is the author of Science… For Her! and is currently a writer for NBC's The Good Place.
Have a tip we should know? tips@mediaite.com