Unspoken Concern Over Egyptian Uprising: Control Of Suez Canal And Price Of Gas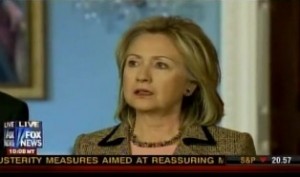 The government of Egypt right now is in turmoil. A social media fueled uprising of Egyptian citizens is still very much a fluid story, but already it seems very unlikely that current President Hosni Mubarak will be able to stay in power without instituting some sort of freedom crushing policy of martial law. Earlier today, a "deeply concerned" Sec. of State Hillary Clinton spoke of the situation in grave but even tones. Why are Western governments so concerned about an unstable Egypt? In addition to all of obvious reasons, two words: Suez Canal, which is literally one of the biggest arteries of crude oil that fuels the U.S. economy.
CNBC is reporting that the once organic upheaval now includes a "militant tinge" now that the banned Muslim Brotherhood has become active in the protests. It is far too soon to guess the outcome of the situation in Egypt, but if the upheaval somehow makes the Suez Canal an untenable thruway for oil tankers bound for the west, then some experts are suggesting the price of oil could nearly double, causing a gallon of gas to come close to $7 a gallon. Of course this is an oversimplified explanation, and one would expect the interceding by OPEC to have an impact on the price as well.
Already stock prices have begun to fall over the unrest in Egypt and its effect on oil prices. WSJ reports:
NEW YORK (Dow Jones)–Oil prices surged Friday after anti-government protests intensified in Egypt, touching off fears that the unrest that has swept much of the region could spread to other oil-producing countries.

Light, sweet crude for March delivery rose $3.61, or 4.2%, at $89.25 a barrel on the New York Mercantile Exchange. Brent crude on the ICE futures exchange gained $1.63, or $1.7%, at $99.02 a barrel. It earlier touched a 16-month high of $99.63 a barrel.

Egyptian President Hosni Mubarak on Friday declared a curfew in greater Cairo, Alexandria and Suez amid the rising crackdown against protesters. Tanks entered …
In her speech from the State Department earlier, Clinton said "We urge the Egyptian authorities to allow peaceful protests and to reverse the unprecedented steps it has taken to shut down communications." Watch the video courtesy of Fox News below:
Fox News report on spike in oil prices:

Have a tip we should know? tips@mediaite.com