Univ. Of Arizona Professor Booed At Graduation For Criticizing Immigration Bill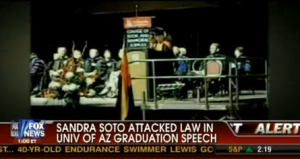 The Arizona Immigration Bill has set off a massive debate around the country, but with much of the media focusing on how places like Los Angeles have reacted, not enough people are asking how the good folks of the Grand Canyon State feel about it. Well, at least one professor at the University of Arizona is unhappy with the bill and she made her opinions clear during a commencement speech at the school's graduation last week. She was greeted with a host of boos and jeers at the time and media scrutiny following it.
The professor, Sandra Soto, began her speech with the typical congratulations inherent in graduation speeches. However, the words turned angry and the audience turned ugly when she moved her way to current events and the Immigration Bill:
"The new Arizona law generally known as SB 1070 is considered the strictest anti-immigrant legislation in the country and is explicitly intended to drive undocumented immigrants out of the state. One reason it has instigated a boycott is because to a whole lot of people, myself included, it appears to not only invite but require the police to engage in racial profiling."
Megyn Kelly took on the story today on Fox where she firmly believed that a commencement speech should "only be about the grads." That seems like a bit of an overstatement since most speakers are expected to talk about themselves (their lives, successes, failures, lessons, and beliefs) for the benefit of the graduates. Whether or not giving your opinion on a controversial political situation falls under that is up for debate. I'm loathe to give my opinion since I graduated last year and all of the speeches then were about the recession and how my class was going to end up homeless or like characters in a Steinbeck novel.
What do you think? Below we have the Fox segment as well as Soto's prepared speech taken from the college blog Inside Higher Ed.
Have a tip we should know? tips@mediaite.com