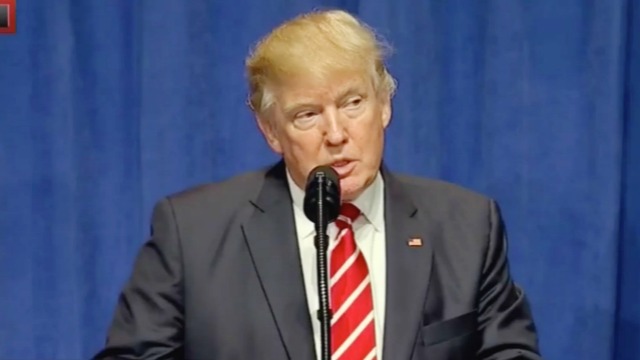 Monday saw a lot of varying reactions stemming from President Donald Trump's claim that the media is not reporting terrorist attacks and the White House subsequently releasing a list of attacks they thought were not covered enough. Almost immediately, reporters were pointing out on Twitter that the list included attacks that got widespread, wall-to-wall coverage, like the coordinated, simultaneous attacks in Paris on November 13, 2015. In time, some journalists began to notice that some of the less well-known incidents on the list were crimes where police explicitly ruled out terrorism. On Tuesday, the mother of a victim of one of those attacks posted an open letter on Facebook, criticizing Trump for using her daughter's death as a political tool.
The letter was posted to Facebook (as of this writing, it's no longer publicly accessible) by Rosie Ayliffe, the mother of Mia Ayliffe-Chung, who was fatally stabbed in August while vacationing at a hostel in Queensland, Australia (Tom Jackson, a fellow Brit who tried to intervene, was also killed). In the letter, as well as separate comments to The Guardian, Ayliffe stressed that the murders, which Smail Ayad of France has been charged with, had terrorism ruled out as a motive early on:
The possibility of Mia and Tom's deaths being consequent to an Islamic terror attack was discounted in the early stages of the police investigation through international collaboration on the parts of Queensland police department and the French ant-terrorist force.
Ayliffe also told The Guardian that since her daughter's death she has repeatedly had to debunk claims that the attack was terrorism, even making a point to include a reading from the Koran as part of Mia's funeral. "I've lived and worked in Muslim countries," she said. "And I was perfectly happy for my daughter to travel in a Muslim country. She wasn't killed in a Muslim country. She was killed in a Christian country, by a French national. It was not a racist, or a terror attack."
Updated February 8th: Tom Jackson's mother is now speaking out against Trump:
"The fact anyone would want to make something political out of Tom dying is just beyond me," Sandra Jackson told the Washington Post. "We're still struggling to come to terms with it and probably never will. This has just brought the whole experience of last summer crashing about us."
Meanwhile, Deadspin went through the list of 78 attacks that the Trump White House is claiming were under-covered (or not covered, depending on the moment) and includes the deaths of Ayliffe-Chung and Jackson. They have prepared an annotated video showing coverage of 75 of them by major news outlets (usually television networks) and went over the specifics of the other three. Their verdict on the latter three was as follows:
El Gora, Egypt (October, 2015): They have yet to find proof this even happened. All articles located by Deadspin referred to yesterday's list.
Malmo, Sweden (October 2016): The coverage in Sweden itself was minimal, and it looks like that was, in large part, because the arson in question (attacking a Shia prayer room) caused no injuries and wasn't claimed by ISIL until over a week later.
N'Djamen, Chad (November, 2016): Like the Swedish attack, even the local coverage was minimal. In this attack, a man from Chad shot a BB gun at police officers outside the American embassy. A report from AFP Africa said that he "pledged allegiance to the Islamic State."
[Photo: MSNBC screen grab]
Have a tip we should know? tips@mediaite.com