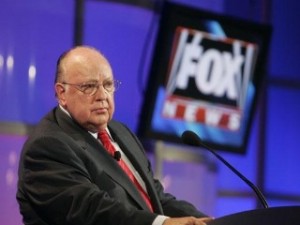 Over at The Washington Post, Erik Wemple took notice of Newt Gingrich's nonexistent presence on Fox News as of late. Rather thoroughly, Wemple chronicles the former GOP presidential hopeful's appearances on other networks, while emphasizing the Gingrich's absence on Fox. Yet in searching for a reason behind this absence, we needn't look farther than the Fox News chief himself, Roger Ailes.
Back in April, you may recall, Gingrich, who was struggling in the Republican primary at the time, had some harsh words for Fox, decrying what he perceived as a blatant bias. Accusing the network of favoring Mitt Romney, Gingrich said:
"I think Fox has been for Romney all the way through. In our experience, Callista and I both believe CNN is less biased than Fox this year. We are more likely to get neutral coverage out of CNN than we are of Fox, and we're more likely to get distortion out of Fox. That's just a fact."
Of course the network immediately shot back at Gingrich, issuing the following statement:
This is nothing other than Newt auditioning for a windfall of a gig at CNN — that's the kind of man he is. Not to mention, he's still bitter about the fact that we terminated his contributor contract.
In his post (entitled "Fox News, where's my Gingrich?"), Wemple rightly mentions the incident and the Fox News response, going on to note that it came after Gingrich's last appearance (on Hannity) and at the beginning of his being missing in action. But, Wemple argues, "big-time news orgs don't let a little rhetorical volley from a candidate influence their programming decisions. They're too thick-skinned for that. It's about the viewers, after all."
Yet there's one piece missing: driving home Fox News' official statement, Ailes, too, addressed Gingrich's criticism directly. Shortly after, Ailes spoke to a group of journalism students at the University of North Carolina-Chapel Hill. In his remarks, he wasn't shy about saying they don't want Gingrich back (via The Herald Sun):
In at-times irreverent responses, Ailes referred to CNN anchor Soledad O'Brien as "that girl that's named after a prison" and threw a jab at Republican presidential hopeful Newt Gingrich, asserting that the candidate has only criticized Fox News' coverage because he's "trying to get a job at CNN because he knows he isn't going to get to come back to Fox News."
Incidentally, Wemple noted Ailes' response in one of his posts at the time. While, yes, big news organizations may not be quick to hold a lasting grudge, a public remark from the head of that organization that blatantly states Gingrich "isn't going to get to come back to Fox News" should clear up questions about the absence.
Have a tip we should know? tips@mediaite.com