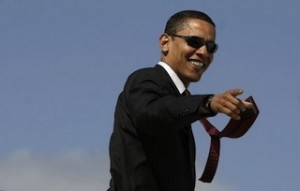 Mitt Romney knows he's not considered by many as being as hip as President Barack Obama, and he's wisely chosen to not compete in that category by not running a "sexy" campaign, instead focusing on the economy and jobs. Still, Romney's square strategy seems to be helping him in the sexiest battleground states, where he's much more competitive than he is in many of the less attractive ones, according to recent polls.
The Daily Beast published a list of the most attractive states in 2010 based on such factors as fitness levels, number of fashion models and pageant results. Swing states are scattered across the list, with fourth place Florida (fifth if you count Washington, D.C., as a state) leading the pack. Obama leads Romney in most swing states, according to various polls by Public Policy Polling taken from March to June, but it's in the most attractive swing states that Romney is the most competitive.
In Florida, Romney trails by six percent, in the eighth most attractive state Nevada, he cut President Obama's lead down to four percent since the last poll was taken. Polls taken in May in Pennsylvania, number eleven on the list, and Virginia, number seventeen, show him seven and eight percent behind, respectively.
Romney leads President Obama in two OK-looking battleground states. In number twenty-two Arizona, Romney is up six percent, and in number twenty-nine North Carolina, he is up two percent.
RELATED: Obama Campaign Debuts Sarah Jessica Parker Ad During MTV Movie Awards
It's in the most unattractive swing states that Romney has the biggest disadvantage, according to the Public Policy Polling polls. In Wisconsin, New Hampshire and New Mexico, the thirty-second, thirty-seventh and fortieth most attractive states respectively, President Obama leads by twelve to thirteen percent.
The one unattractive battleground state Romney is polling competitively in is Ohio, which was the 45th state on the Daily Beast's list. Romney has closed the seven percent gap there down to three percent.
Support for Romney in Ohio had grown among white voters, but African American, female and young voters still favored President Obama enough to give him an edge in the state, Public Policy Polling noted.
Ohio's Sen. Rob Portman has been rumored to be a potential vice presidential pick for Romney, but Public Policy Polling found putting Portman on the ticket wouldn't really help Romney's chances in the state; A lot of people in Ohio don't even know who the guy is. Only sixty-three percent of respondents had an opinion about Portman, the lowest figure for any senator in their home state, Public Policy Polling reported.
Even though Ohio was near the bottom of the barrel in the Daily Beast's list of most attractive states, it's one of the most crucial to winning an election. Among swing states, it has been the most reliable, voting for the winner of the presidential election for the past 48 years.
Follow Hunter Schwarz (@hunterschwarz) on Twitter
Have a tip we should know? tips@mediaite.com