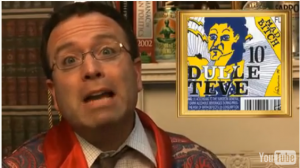 WaPo executive editor Marcus Brauchli has put an end to Mouthpiece Theater, the satirical web series of Post staffers Dana Milbank and Chris Cillizza, Howard Kurtz reported this afternoon.
The straw that broke the camel's back was a joke in the latest episode of Mouthpiece at Secretary of State Hillary Clinton's expense "that went too far." Brauchli was under pressure from groups such as Women, Action and the Media, that took offense at Milbank's none-too-subtle allusion that, if Clinton had been at the Beer Summit, her beer of choice would have been "Mad Bitch" (video here).
Criticism of the show was harsh. "We'd hoped the self-deprecating humor of me and the irreverent humor of Dana would combine to make something funny and interesting and on the news," Cillizza told Kurtz. "It wound up not working. . . . Ultimately it wasn't funny." Retorted Jay Rosen on Twitter, a vocal critic of Mouthpiece: "In @howardkurtz's coverage…the fatal misjudgment is clear: Milbank and @TheFix thought they came off as self-deprecating." Comedians Josh Funk and Andy Cobb ridiculed the show, saying it was "so unfunny [it] might be performance art."
In a post that ran on Cillizza's blog, The Fix, he apologized for the show and debriefed his readers on Brauchli's decision to end Mouthpiece's run, calling the series an "experiment by the Post in producing original web video content":
We are in an experimental age of journalism in which many of the old ways of doing business are rapidly being transformed. I have always believed that experimentation — and the willingness to fail — sit at the center of any creative endeavor, and have done my best to bring that mentality to the Fix each and every day.
In an interview with Kurtz, Brauchli said that the Post's multimedia editing processes were partly to blame:
"We did not have an effective system for vetting videos and other multimedia content," Brauchli said, insisting that will change. He said the paper will keep experimenting with new media but that "we need to hold ourselves to our standards to deliver that."
That, of course, does not account for the faulty judgment which allowed the "Mad Bitch" joke to be aired in the first place.
Cillizza's post on The Fix apologized for his failed attempt at satire full-stop. "I can only hope that those who have enjoyed reading the Fix, following me on Twitter and Facebook and watching my occasional television appearances can follow the age-old maxim: to err human, to forgive divine," he wrote.
Between Cillizza's post on The Fix and Kurtz's article — which quotes Cillizza, Milbank and Brauchli extensively — the Post is careful to separate out the ill-advised Mouthpiece from the more traditional journalistic work of the two. Baruchli called Cillizza "an enormous talent and someone who is closely followed and admired by a lot of journalists and people in politics" and of Milbank:  "Dana writes a terrific, very funny and usually very popular column on Page 2. He's an equal-opportunity offender, and from time to time everyone's mad at him."
Should WaPo have given Mouthpiece a shot? Absolutely – as Cillizza says, experimentation and the willingness to fail are the cornerstones of progress (and, potentially, pageviews). Should they have axed it? Yes – as Rosen tartly pointed out, Mouthpiece was embarrassing and threatened to tarnish Cillizza's and Milbank's reputations (not to mention the Post's). But even Rosen, über-critic, noted the difference between the a good idea and faulty execution, noting Friday: "People are finding it a challenge to express how bad "Mouthpiece Theatre" with Dana Milbank is… But they should keep at it." If not this experiment, then hopefully the next.
— with Rachel Sklar
Have a tip we should know? [email protected]