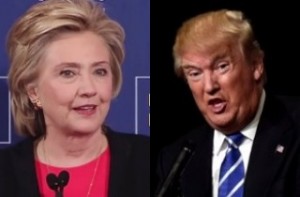 Both Donald Trump and Hillary Clinton represent a threat to a free press, according to the leaders of the White House Correspondents Association (WHCA).
In a column published Thursday in USA Today, WHCA outgoing president Carol Lee and incoming president Jeff Mason write that both presumptive nominees for the major parties needed to "do better" in granting media access.
"[T]he White House Correspondents' Association is alarmed by the treatment of the press in the 2016 presidential campaign," they write.
In Clinton's case, the column's authors pointed to the candidate's general aversion to the press — specifically, the fact that she has not held a press conference in 2016. In the case of Trump, they note that the business mogul has expressly and specifically banned reporters and news organization because he doesn't like what they write.
Clinton chastised Trump on Twitter Wednesday for his habit of banning journalists who have criticized him, and she was quickly rebuked by media figures pointing out her own shortcomings in providing access to reporters.
Lee and Mason write:
We believe that whenever media access is restricted, the public's right to know is restricted. Transparency is the key to a well-informed electorate, and without a well-informed electorate, our democracy is put in jeopardy.

With that goal in mind, we advocate day-in and day-out at the White House for greater access to the president. We will continue to advocate for more access during this presidential campaign.

The American people expect that anyone who seeks the highest office in the United States should be put under intense scrutiny. If he or she has an issue with that, Americans should take note.
The WHCA issued a similar sternly worded rebuke to Trump one month ago after he banned Washington Post from his events because he disagreed with their coverage. The WHCA called the decision "nothing less than a repudiation of the role of a free and independent press" and said that a presidential nominee cannot "disown the principles of the First Amendment."
You can read the complete column here.
Have a tip we should know? tips@mediaite.com