What Did Limbaugh Think Of Ice-T's 'Last Defense Against Tyranny' Gun Rights Remark?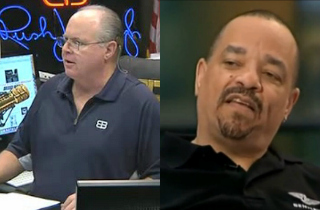 On his nationally-syndicated radio show Tuesday afternoon, conservative host Rush Limbaugh got a kick out of actor/rap legend Ice-T's defense of gun rights to London's Channel 4 News. Limbaugh praised the remark, adding that it is "double impressive" because the former gangsta rapper "knew the word 'tyranny.'"
As we reported yesterday, the self-described "Godfather of Gangsta Rap," told the British television network that guns are "the last form of defense against tyranny" and vehemently denied any connection between gun ownership rights and the massacre in Colorado.
Before playing the sound bite for his audience, Limbaugh reminisced back to "one of the funniest things" he ever saw: when Ice-T, "back in his radical days," was interviewed by Nightline's Ted Koppel during the Rodney King era.
– RELATED: Rapper Ice-T Defends Gun Rights After Colorado Shooting: 'The Last Form Of Defense Against Tyranny'
"They were talking about some racial strife, and Koppel didn't know what to call [Ice-T], so he just kept calling him 'Mr. T.'… And, of course, Ice-T's in character on this show, and he's doing the down-low [ed. note: I wonder if Limbaugh knows what that really means], and Koppel here is Mr. Sophisticated. And Ice-T had that angry-at-the-world face, 'And I'm tellin' you that I'm down wit it, bro.'"
But, in Limbaugh's eyes, the rapper seems to have redeemed himself for his past "radical" ways. Limbaugh was amused that a "sophisticate" British journalist tried to get the rapper to talk negatively about gun ownership, and instead he said it's the "last form of defense against tyranny."
"He knew the word 'tyranny,'" Limbaugh said of the rapper. "And he knows that tyranny comes from government representatives."
"Double impressive," he concluded.
Listen to the audio below:
[h/t Daily Rushbo]
>> Follow Andrew Kirell (@AndrewKirell) on Twitter
Have a tip we should know? tips@mediaite.com