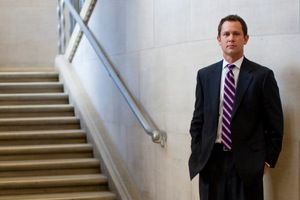 A victim of news cycle fatigue, the War on Terror is rarely a top story in 2010, barring a juicy scandal. When it does appear, the fight abroad monopolizes the coverage, with little on what happens to Al-Qaeda operatives once we find them. The New York Times has taken the initiative in profiling US Attorney Jeffrey Knox, who has been at the forefront of the messy process of prosecuting terrorists, but why are they the only ones on this story?
Common knowledge on the right would have it that terrorists caught abroad just spend their days sunbathing in Gitmo; on the left, they're being waterboarded most of the time. The reality of it, according to the Times, is that many terror suspects find themselves passing through the legal system quite efficiently so as to maximize their value as purveyors of intelligence. "Over the last two years," the Times explains, "about one-third of the international terrorism convictions around the nation, and nearly all of those involving the post-9/11 activities of core operatives of Al Qaeda, were won by the United States attorney's office in Brooklyn." Knox supervised all of these cases, and the Times has some fascinating articles on how Knox's treatment of the operatives as civil rather than war criminals has proven fruitful:
"Bryant Neal Vinas, 27, a convert to Islam, born in New York to an Argentine father and a Bolivian mother and raised and radicalized on Long Island, had already begun cooperating with the F.B.I. and prosecutors, court records show.

His early statements led almost immediately to successful drone strikes in the tribal areas, several officials have said, and he later became one of the government's most prized intelligence assets on Al Qaeda's operations and leadership. His information, the officials said, was shared with and used by the United States military, and by intelligence and law enforcement agencies of the United States and its allies."
And there is more evidence that terrorists under the American judicial system are more valuable and are dealt with in a swifter manner than the alternative. The successes of this domestic prosecution of terrorists is screaming for a major headline; it flies in the face of conservative conventional wisdom that treating terrorists as war criminals and sentencing them even more quickly would be more successful. So it's no surprise that Knox hasn't landed himself a prime spot on Hannity or an extensive profile in the National Review, if only in a "the man does a good job, but we can do better" type of column.
More interesting is the fact that pundits on the left, in whose favor it would be to point out the successes of the Obama administration in prosecuting terror suspects, has been equally silent, opting instead to defend the President on his domestic policies (health care, the economy, etc). One complication with Knox is that, despite in practice forwarding an opinion more commonly found among liberals as to how terrorists should be dealt with, he's a New York Times-certified "traditional law-and-order Republican." He may be proving a mutually beneficial point for both sides, as Americans, but that's not how the punditry game works. Political coverage is a scoring game, but it isn't soccer; you can't score an own-goal against your own side (just ask David Frum).
After a significant amount of time in the shadows, it's good to see the story finally surface, even if presented in a format that will convince very few partisans– the loudest in the news/political sphere– to rethink their opinions on either side. But seeing Knox's work and that of his colleagues front-and-center in the cable news is a long shot, as is any evidence to support a contrary opinion– the topic is simply, like most of the War on Terror, too important in too non-partisan a way to grab attention on either side.
[photo credit NYT]
Have a tip we should know? tips@mediaite.com