What's Worse: Reporters Tweeting At Victims, Or Politicizing Shootings While In-Progress?
Late Wednesday morning, news broke of an active shooter situation at Umpqua Community College in Roseburg, Oregon. News about the event, which is no longer classified as "active" as of this writing, can be found here.
The details keep changing, including whether or not the school was a supposed "gun free zone," the exact numbers of the dead and the wounded, and whether or not the shooter has been identified. That's because local and national reporters are scrambling to gather as much information as they possibly can, collaborate it with other sources, and determine what is and isn't worthy of reporting. This requires being nosey and annoying, as Gawker's Sam Biddle points out, even though some people on Twitter (including media professionals) have taken offense to the practice.
Does the practice of tweeting at someone who supposedly just encountered a gruesome tragedy seem bad? Hell yes it does, but that's how reporting works.
What's worse is when these same reporters begin politicizing such events while they're still happening. That's precisely what BuzzFeed's Joel Anderson did when he tweeted, "It's just too bad we can't do anything about the unfettered access that people have to guns."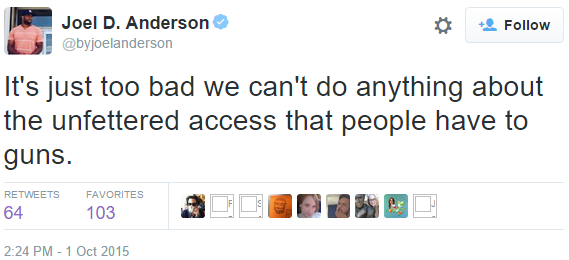 Such remarks are usually reserved for the competitive, advantageous arena of political pundits, talking heads and actual politicians. (Even though it's difficult to tell these apart from one another.) At least, you'd assume only these three types would squabble with one another to try and play the blame game first.
Yet this isn't the first time a BuzzFeed staffer has piped up on the obviously related issues of gun violence and gun control in the United States. Back in July, Rachel Zarrell responded to the shooting at a movie theater in Louisiana by saying, "Don't pray. Push for gun control."
To be quite frank, I wholeheartedly agree with both Andreson and Zarrell's statements. When I first read about the latter's tweet in July, I nodded my head in agreement at the computer screen. Of course, I only came across it after Mediaite's Ken Meyer had reported on it. By then the incident was no longer in-progress, and the media et al. had had plenty of time to process most of the information that was known about the event.
While I also agree with Anderson, I was less inclined to do so when I initially saw his tweet. That's because I saw it happen in real time, when the Umpqua Community College shooting was — for all we knew — still happening. The shooter was possibly still at large. Questions about whether or not there was a second shooter were still being asked. Body counts were still being tallied.
It's fine to have an opinion about these kinds of things, but it's probably best to get the reporting done — or let those who are doing the reporting get it done — first.
[Image via screengrab/Twitter]
— —
>> Follow Andrew Husband (@AndrewHusband), a gun-owning, liberal Texan living in Boston, on Twitter
Have a tip we should know? tips@mediaite.com