'White House Official Accepted Some Blame' for False Claim GOP'er Insulted Obama to His Face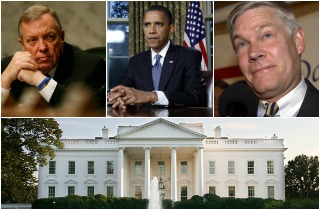 On Wednesday night, Sen. Dick Durbin (D-IL) alleged that an unnamed Republican officeholder had insulted President Barack Obama to his face in a meeting where he was present. The accused, later revealed to be Rep. Pete Sessions (R-TX), denied that had occurred as did White House Press Sec. Jay Carney. CNN reports on Thursday that "a White House official accepted some blame for the story."

"[I]n a 'negotiation' meeting with the president, one GOP House Leader told the president: 'I cannot even stand to look at you,'" Durbin wrote on his Facebook page. "What are the chances of an honest conversation with someone who has just said something so disrespectful?"
In spite of pushback over the story, a spokesperson for Durbin said that the Illinois senator "stands by his comments."
RELATED: Sen. Dick Durbin: GOP Leader Told Obama 'I Can't Even Stand to Look at You'
The quote "made its way from the White House to the Senate via White House deputy chief of staff Rob Nabors," according to a report from CNN host Jake Tapper.
Nabors told the story to Senate Majority Leader Harry Reid, D-Nev., Durbin, and the two other Senate Democratic leaders, Sen. Chuck Schumer of New York and Patty Murray of Washington, on Tuesday October 15, sources tell CNN. Reid then told the story to the entire Senate Democratic caucus, sources in the room at the time tell CNN, identifying the House Republican leader as Rep. Pete Sessions, R-Texas., who denies the story. Durbin posted it on his campaign Facebook page without mentioning Sessions' name.
Tapper reported that an administration official has confirmed that the quote in question was "not accurate."
"Senior administration officials tell CNN that according to senior White House officials in the room, Sessions in the meeting was expressing frustration with the situation, not with President Obama," Tapper concludes.
[Photo via White House/AP/Jay Premack]
— —
> >Follow Noah Rothman (@NoahCRothman) on Twitter
Have a tip we should know? tips@mediaite.com