Who is Bernhard Langer, the Golfer at the Center of Trump's Voter Fraud Claims?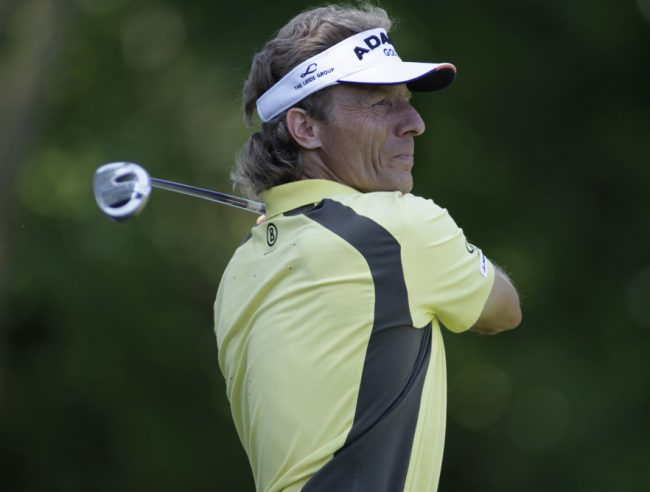 So who is Bernhard Langer – the 59-year-old golfer whose story about being unable to vote in Florida is, according to The New York Times, central to President Donald Trump's unsupported voter fraud claims?
Prior to Wednesday, Langer was best known as a two-time winner of The Masters — having captured the coveted green jacket in 1985 and 1993. He only won one other PGA Tour event in his career, the 1985 Sea Pines Heritage. But he was a force on the European Tour, capturing 42 lifetime titles, good for second most all-time. Largely on the basis of his European Tour dominance, he was inducted into golf's Hall of Fame in 2002.
Since then, Langer has gone on to become the Tiger Woods of senior golf. He's won 30 tournaments on the PGA Tour Champions (formerly known as the senior tour), the most recent of which came just last week in Hawaii. And he can still hang with the young guns. Just two years ago, at age 57, Langer was in serious contention in the final round of the Masters and had a legitimate chance to win. He finished tied for eighth.
Langer was born in Bavaria, Germany. But in his later years, he has taken up residence in Boca Raton. Still, according to the Times report, Langer is a German citizen. And as such, he is not allowed to vote in US elections.
But according to three witnesses cited in the Times story, President Trump claimed that Langer told him he did indeed try to vote, and was unsuccessful in doing so. (A White House official disputed this — saying that Langer told Trump that it was one of his friends who was unable to vote, not Langer himself.) The story goes that people in line around either Langer or one of Langer's friends — depending on whose account you cite — were people "who did not look as if they should be allowed to vote, Mr. Trump said, according to the staff members — but they were nonetheless permitted to cast provisional ballots."
Trump, an avid golfer and owner of a number of top courses around the world, enjoys friendships with many touring pros. But according to Langer's daughter, Christina Langer, her father is not one of them.
"He is not a friend of President Trump's, and I don't know why he would talk about him," Christina Langer told the Times.
Still, whatever their relationship, Bernhard Langer is now an unlikely central character in the first week of Donald Trump's presidency.
[image via Shutterstock.com]
–
Follow Joe DePaolo (@joe_depaolo) on Twitter
Have a tip we should know? tips@mediaite.com
Joe DePaolo - Senior Editor