Who is Mark Judge, Brett Kavanaugh's High School Friend and Alleged Witness?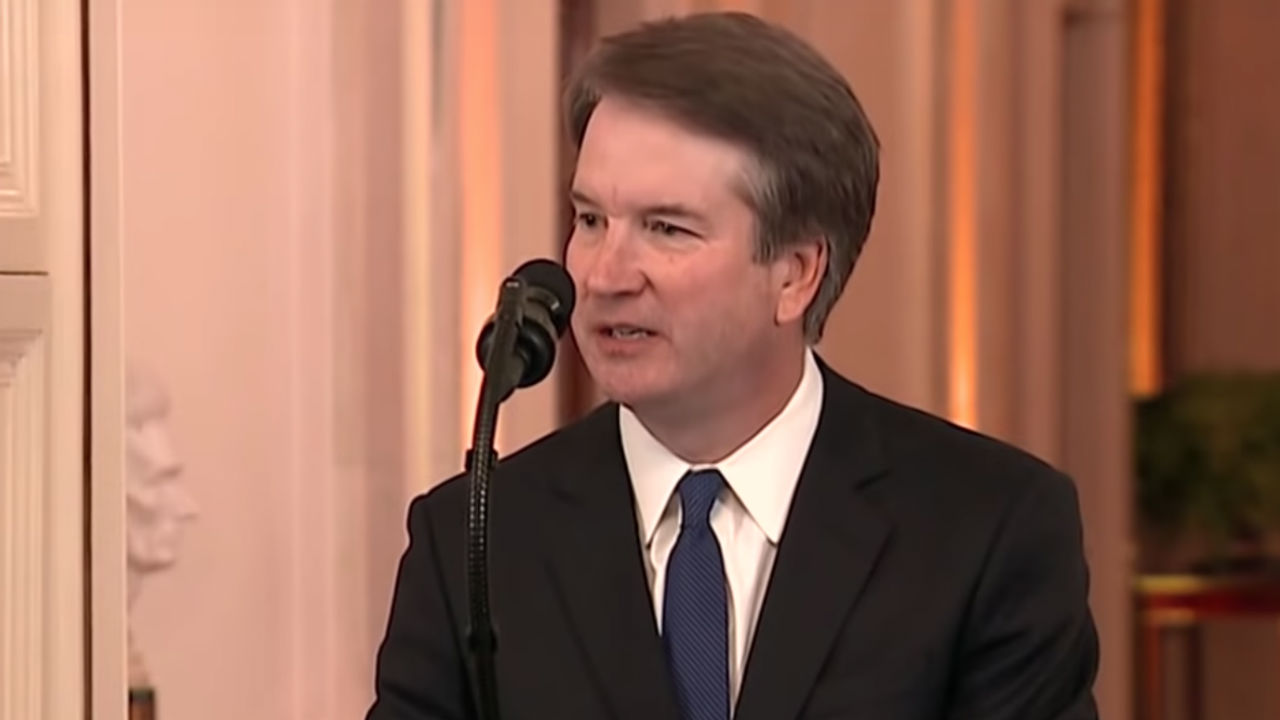 Mark Judge, who is Brett Kavanaugh's high school and alleged misconduct witness, is raising more questions about the legitimacy of the attempted sexual assault claims against the Supreme Court justice nominee.
Last week, reports found that Senate Democrats obtained a letter from a woman alleging that Kavanaugh had held her down, while covering her mouth to muffle her screams, in an attempt to sexually assault her. The writer of that letter turned out to be Christine Blasey Ford, a woman who says that incident occurred when the two were teenagers and Kavanaugh was attending an all-boys prep school in Bethesda, Maryland.
Ford also claims that Judge, a high school classmate of Kavanaugh's, was in the room and witnessed what happened. The accuser noted that both the men were "stumbling drunk" at the time.
Judge has since claimed he does not remember the event and told The Weekly Standard, "It's just absolutely nuts. I never saw Brett act that way."
However, Judge has a questionable history himself.
According to Mother Jones, in a 1997 memoir about addiction called, "Wasted: Tales of a Gen X Drunk," Judge wrote extensively about his constant teenage alcoholism and even explains that students at his and Kavanaugh's school constantly "reached the point where once I had the first beer, I found it impossible to stop until I was completely annihilated."
"The next thing I knew, I was lying on a bathroom floor. I was curled up in the fetal position with saliva running out of the side of my mouth," Judge wrote in one passage on his teenage drinking, adding that he "passed out" in a Four Seasons' hotel room, which clearly raises issues with how well Judge could remember what happened at a specific party.
The SCOTUS nominee himself appears to make an appearance in the memoir, with Judge writing about how someone named "Bart O'Kavanaugh" had "puked in someone's car" and "passed out on his way back from a party"
Judge's other odd history includes writing controversial content for right-wing outlets such as the American Spectator, the Daily Caller, and GotNews, which is a site owned by the alt-right Holocaust denying troll Chuck Johnson.
In one such piece for the Daily Caller, Judge wrote about a thief steeling his bicycle and said the odds were "very high" that the perpetrator was black. In another article for PoliticalMavens.com, Judge asked, "You're thinking it even if you don't say it: Are gay people perverts?"
Additionally, Judge has dedicated a lot of his writing to discrediting rape allegations. Several writers on Twitter discovered this disturbing development.
Mark Judge, Kavanaugh's high school friend who was in the room when Christine Ford says she was assaulted has some pretty telling views on masculinity https://t.co/gqjWCwdCC3 pic.twitter.com/vyMAOXnOrt

— Jessica Valenti (@JessicaValenti) September 17, 2018
Another one from Mark Judge where twice in one paragraph he writes that women shouldn't be raped, BUT… https://t.co/djV22uwXcM pic.twitter.com/T8n1lydfin

— Jessica Valenti (@JessicaValenti) September 17, 2018
He's deleted his social media accounts, but from what's stuck around it seems Brett Kavanaugh's buddy Mark Judge has been invested over the years in discrediting accusations of rape. pic.twitter.com/01AxikzdlI

— Jonathan M. Katz✍? (@KatzOnEarth) September 16, 2018
On a now-deleted YouTube channel and on his Facebook account, Splinter reports that Judge posted sexually charged videos of young women in various states of undress.
In light of the developments about the allegations, Senate Democrats and Republican Senator Jeff Flake have pushed delay Kavanaugh's vote.
[image via screengrab]
Follow the author on Twitter (@calebecarma).
Have a tip we should know? tips@mediaite.com