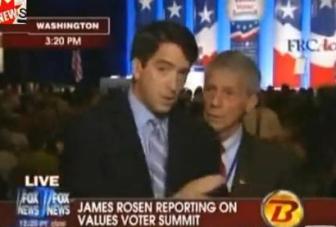 Two videos of reporters being interrupted live on air at the Values Voter Summit went viral last week.
The interruptions made for interesting TV, and caused a brief confrontation between reporter and attendee. But one attendee says the blame goes to the reporters for their tactics.
Chip Berlet, an attendee who admits "I am a critic of the views of most people at the Values Voter Summit," writes a blog on Huffington Post about the experience. Here's how he described the reproters:
This was about two loud, arrogant male oafs disrupting an event…These two reporters were jerks. The attendees just wanted to listen to the speakers. I spoke with other reporters who agree with me. They are not in a position to be publicly critical. I am.
Berlet writes that there were other options for the reporters to do their live shot where it wouldn't interfere with the conference, but James Rosen of Fox News and Brian Mooar of MSNBC went a route that was bound to interrupt. So they dealt with angry attendees. "Excuse sir, I am doing my job, I'm a reporter and we're actually showing your event on television, so if you want to interrupt that, that's what you're accomplishing now," said Rosen at the time.
A woman who interrupted MSNBC's broadcast was calm, and explained, "All we're asking is that you step outside when we're trying to listen, because it's very distracting. That's all we are asking, to not be distracted."
But in the same live shot, security removed a man who interrupted MSNBC. It sounds like it wasn't the attendee or even the reporters who were at fault. If the conference organizers allowed the reporters to broadcast from inside, during the speeches, the real "jerks" were those who let this happen.
Here was the MSNBC live shot interruption:


—–
» Follow Steve Krakauer on Twitter
Have a tip we should know? tips@mediaite.com