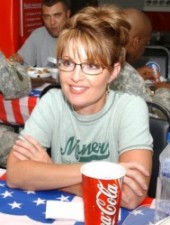 One of the very first things to be noted about Sarah Palin's memoir Going Rogue was that, in very un-Beltway tradition, it did not have an index. While the move on Palin's part was obviously an intentional one — whether to drive D.C. types crazy and force them to read the whole book, or merely further prove her status as an outsider, or both — the result has been that a number of news outlets have stepped up to fill in the blanks, with some very humorous results.
From Slate a cursory glance at Palin's reading list derived solely from book and magazine mentions:

A Conflict of Vision, 385
Animal Farm, 27
Buck, Pearl S., 180
Bible, the, 15
Cookbooks, 15
Lewis, C.S., 27
Nash, Ogden, 15
National Geographic, 27
The Pearl, 27
Ranger Rick, 27
Reader's Digest, 15
Seagull, Jonathan Livingston, 27
Service, Robert, 15
Sports Illustrated, 27
The Wonderful World of Oz, 16
On Katie Couric, also from Slate:
"repetitive, biased questions" of, 271
unfair editing of interview with, 273
condescension of, 276
things I could/should have said to, 274-5
things I could have done instead of talking to, 279
The Washington Post has a slightly more detailed rendition of mentions, which also includes a drop down menu! For example Palin had this to say about Bill Clinton: "Palin says she sensed in her meetings with Clinton 'an unspoken mutual disappointment with the media's serial unfairness to some presidential candidates in the 2008 race.'"
Some of the entries even come equipped with responses. Palin writes of her joint SNL appearance with Alec Baldwin that,
The campaign haggled with producers and writers to come up with appropriate lines for the two, deciding on something poking fun at Baldwin and his actor brother Stephen, after they turned down a line she suggested to poke fun at the actor's claim that he would leave the country if George W. Bush was elected in 2004.
Meanwhile Baldwin's reps say:
The reason that line was turned down was because the actor never made that claim. "'They nixed the joke because the underlying premise just wasn't true,' Baldwin's rep, Matt Hiltzik, tells EW on behalf of Baldwin. . . . 'But once Palin knew that, after telling her [it wasn't true], she said, "Well, let's say it anyway," like she needed it to be true.'"
Perhaps future memoirists should consider going the Palin route: it makes for a fun media game if you have the time to play it.
Have a tip we should know? tips@mediaite.com