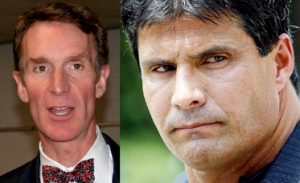 Former baseball player and current meteor truther Jose Canseco has some interesting theories about gravity. He thinks that there wasn't as much gravity in ancient times, which is why things were MUCH BIGGER back then. This carefully-though-out hypothesis led to a calm rebuttal by Bill Nye the Science Guy on why his theory is completely unscientific (a.k.a stupid). So now we can all die peacefully knowing that we've finally had the supreme battle of the ages as foretold in the most ancient prophecies: Cancseco v. Nye.
RELATED: CNN Anchor Asks Bill Nye If Global Warming Had Anything To Do With A Near-Earth Asteroid
Canseco kicked off his bizarre tirade against gravity with a cryptic tweet on Monday.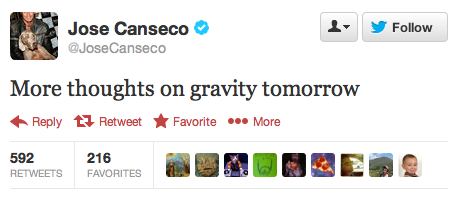 On Tuesday Canseco shared his theories on how gravity in ancient times was "much weaker" because how else could you explain why "nothing REALLY big exists today in nature." Canseco's hypothesis was best distilled in the following two tweets.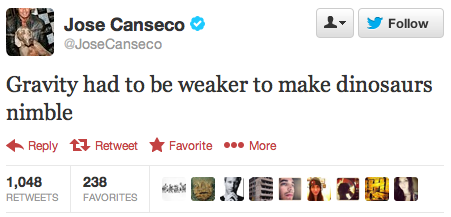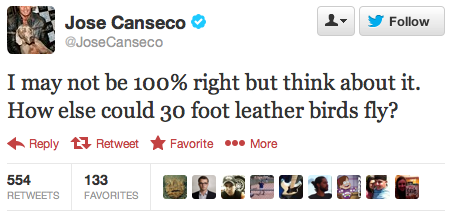 Well, it wasn't long until one of Professor Canseco's scientific equals responded to his peer-reviewed hypothesis. Bill Nye the Science Guy provided a statement to The Huffington Post, getting in a dig at Canseco's nickname, "The Chemist."
Reading his recent tweets about the remarkable size of the ancient dinosaurs … it doesn't sound (read) as though he's especially fluent in physics. This fills me with either joy or dismay depending on what social media messages he provides us with next. Either he's in on the joke and is just throwing us all a curve ball with plenty of break, or we as a society have failed him completely with regard to the fundamentals of planetary science.
After seeing Nye's comments, Canseco provided an equally thoughtful response.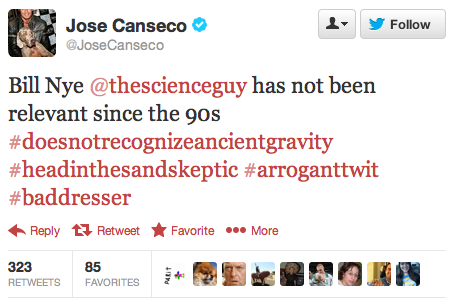 But lest you be worried that this would make things awkward between Canseco and Nye at their annual Science Meetings for Science People, I have some good news for you. After about an hour of self-reflection (or maybe after realizing he was arguing with a scientist over what gravity is), Canseco recanted and apologized to Nye.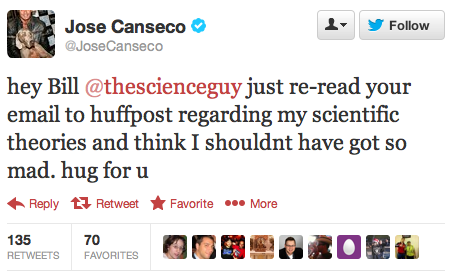 So there you go. All is right with the world. But let February 20, 2013 be forever remembered as the day Jose Canseco almost picked a fight with Bill Nye over gravity. I cannot emphasize enough how amazing it is that this actually happened.
h/t BuzzFeed
—–
Follow Josh Feldman on Twitter: @feldmaniac
Have a tip we should know? [email protected]
Josh Feldman - Senior Editor