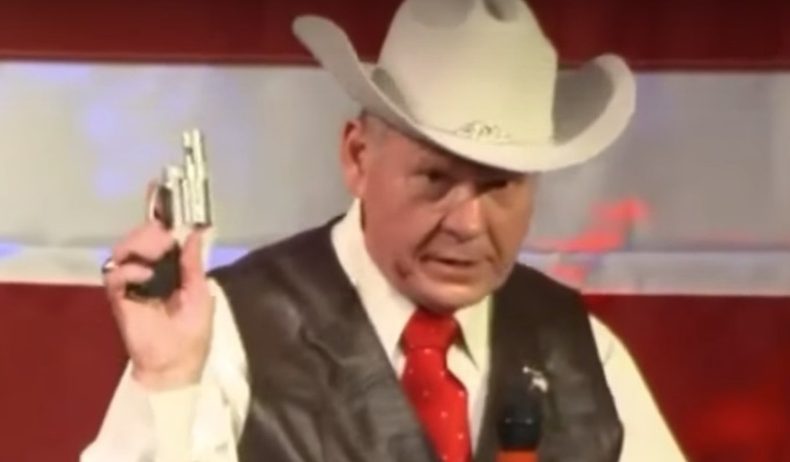 UPDATE: Dec. 12: Here it is, folks. People have begun to cast their ballots. Will unassuming never-banned-from-the-Gadsden-Mall Doug Jones eke out a Senate victory or will Roy Moore and his eensy weensy gun go on to represent the great state of Alabama?
Several reputable outlets have been calling this thing a toss-up, thanks to the wild variances in polling data that keep coming out. RealClearPolitics has Moore up by 2.2 percentage points, which is statistically tied, more or less. Nate Cohn has once again busted out his patented needle graphic to pretty much say the same thing.
Happy Election Day. May the needle swing in your favor pic.twitter.com/JlECaVkgZX

— Nate Cohn (@Nate_Cohn) December 12, 2017
Let's take a look at some of these polls, three of which were essentially released on election eve, each telling a completely different story.
Fox News conducted a poll that has Doug Jones up by 10 points over Moore.
Emerson College Polling, on the other hand, has Roy Moore up 9 points over competitor Jones. Hey, that's almost the exact opposite.
Finally, a poll conducted by Change Research has Moore up by 6 points.
So here we go with the most obvious sentiment imaginable. This thing is going to come down to turnout, or lack thereof. Will enough Republicans be turned off by the allegations levied against Moore to sit this one out, or to write in Luther Strange? Can Doug Jones cobble together a coalition of fired up progressives, centrists, independents and, well, folks who don't care for the molestation of 14-year-old girls?
Maybe. Maybe not. As Greg Sargent reported for the Washington Post, Doug Jones's campaign is considering three factors as essential for the Democrat to pull off an upset:
African American turnout has to outperform expectations
Undecided voters, of which there are still more than expected, have to break for Jones
A lot of GOP-leaning voters have to write in a candidate other than Moore
Keep in mind, though, a Moore victory here does not mean Alabama is a hive of villainy, allowing pedophiles to live their best lives. Before these allegations started dropping, Moore was up, on average, 20 points. Now, the race is statistically tied. That certainly is something.
WATCH: Alabama Senate candidate Roy Moore arrives to vote on horseback pic.twitter.com/crp2cfsfNA

— NBC News (@NBCNews) December 12, 2017
Speaking of somethings, Roy Moore has a horse named Sassy, which he rode on this afternoon to cast his ballot. Sassy. Let that one sink in for a minute.
This post will be updated sporadically to reflect Moore's evolving chances of victory. Read the original post below and check in with Mediaite throughout the day for election results.
UPDATE: Dec. 5: Another poll. Another bit of confusion. While most recent polls have had Roy Moore up by several points, this new one, conducted by Gravis Marketing and Big League Politics, gives Doug Jones a four-point edge.
New Gravis poll in Alabama… Jones +4. Taken Dec 1-3. Prior poll was Jones +5. https://t.co/uRq3c550fw

— (((Harry Enten))) (@ForecasterEnten) December 5, 2017
It must be noted, however, the last poll conducted by Gravis put Jones up by 5, which could suggest fading support, even in friendly polling areas. There's also the looming specter of the RNC, who recently decided to step back in the race, pumping Moore with cash.
Just one week until the election, folks!
This post will be updated daily to reflect Moore's evolving chances of victory. Read the original post below.
UPDATE: Nov. 29: Another poll. Another uptick for Roy Moore. JMC Analytics polled likely voters on Monday and Tuesday of this week and found that Moore was up over competitor Doug Jones by five points
Alabama Senate poll (JMC Analytics)

Roy Moore 49% (+7)
Doug Jones 44% (-2)https://t.co/hWwobp5Cz0

— Sahil Kapur (@sahilkapur) November 29, 2017
This is interesting as the last poll JMC conducted had Jones up five, meaning Moore enjoyed a net gain of ten points. Just 13 more days, people!
UPDATE: Nov. 28: Some new polls have been released, which show an increase in Moore's odds of a victory in Alabama.
New Emerson College poll has Moore +6 over Jones in AL-Sen… Last poll was Moore +10 (after initial allegations broke)… So make of that what you will.

— (((Harry Enten))) (@ForecasterEnten) November 28, 2017
A poll conducted by Emerson college has him up five points and another poll conducted by Change Research has him up five points. So, there's that.
Roy Moore has erased Doug Jones' lead, thanks largely to the fact that the vast majority of Republicans don't believe the allegations against Moore. Just 9% of Trump supporters believe them. https://t.co/roxcJEybEP

— Change Research (@ChangePolls) November 28, 2017
Also, the Change Research poll has indicated that just nine percent of Trump voters even believe that the allegations have any merit. With exactly two weeks left before the election, and polling trends already heading back in Moore's favor, he could just win this thing. Won't that be a pickle?
Read the original post below.
Alabama Senate candidate Roy Moore shocked the country when he beat Trump-endorsed Luther Strange in August's Republican primary election. A lot can change in a few months, however, and repeated allegations of sexual misconduct have plagued Moore ever since, with a number of women stepping forward to accuse the former judge for preying on them when they were in their teens.
Competitor Doug Jones has jumped on these accusations, releasing several scathing ads that highlight some of the more egregious activities Moore has been accused of engaging in, which include sexually assaulting a 14-year-old girl.
"Immoral" pic.twitter.com/92qemMYK3Y

— Doug Jones (@GDouglasJones) November 22, 2017
Right after the allegations broke, polling seemed about even for the two candidates, with some actually giving Moore the edge. These past few weeks, though, Moore has taken something of a polling nosedive.
So with the election in just 15 days — even with an assumed Trump bump — can the beleaguered former justice prevail? Let's take a look.
Much less ambiguity about the polling trend in Alabama now. Things have gotten worse for Moore since the allegations first came out. pic.twitter.com/1cPt1jzvos

— Nate Silver (@NateSilver538) November 17, 2017
Nearly every poll taken since the accusations were levied against Moore show Jones gaining ground.
.@FoxNews! poll: With strong support by women, Jones leads Moore by 8% in Alabama race. https://t.co/7CSaBzcFzL pic.twitter.com/eG6ZvSO304

— Mark Elliott (@markmobility) November 17, 2017
The question, then, is just how much ground has he gained? Alabama is one of the reddest states in the union, after all, with Trump taking 62 percent of the vote in the 2016 election, compared to Hillary Clinton's 34 percent.
In other words, Jones faces an uphill battle just by having a "D" next to his name. According to RealClearPolitics, Jones leads Moore by less than one percentage point, when you combine all of the polls, which isn't a large buffer in a state like Alabama. There is the phenomenon of "poll-shy voters," meaning people how are embarrassed to voice support for a controversial candidate when speaking with a pollster, but end up pulling the trigger for them once they are in the voting booth. Showing public support for a guy who was allegedly banned from the Gadsden Mall for being a creeper could definitely force Moore voters into this camp — and create some artificial inflation in Jones's lead.
Poll: Doug Jones v. Roy Moore #alsen pic.twitter.com/vDQTT9AX4R

— #mapoli, Vote #NoOn2 (@RWwatchMA) November 24, 2017
FiveThirtyEight, however, has noted that if you take only the most recent polls, conducted in the last two weeks, Jones' lead increases by 3 percentage points. This is still well within the margin of error, but gives the Democrat a small amount of breathing room.
Trump's recent endorsing of Moore may have tightened the race up a bit, but we don't have any polling data to back that up. We do have data from the political gambling site PredictIt, though, that runs in contrast to polling, showing Moore with a 65 percent chance of winning the election. This is down from when the allegations broke, sure, but Jones rests in places second with an anemic 35 percent chance for a victory. It is worth noting, since Trump's first words of support for Moore on November 21, the group mind at PredictIt has upped his chances by 11 percent. To put it simply, Alabama loves Trump and his word carries a lot of weight with voters.
Roy Moore back in the lead according to the @PredictIt market #alpolitics pic.twitter.com/8NalhSuSTA

— Jeff Poor (@jeff_poor) November 22, 2017
There is also the specter of "fake news," a concept Alabama voters are extremely sensitive to, and one Moore is taking full advantage of, both in campaign ads and on the stump. The notion that the allegations against Moore were made up, as part of a conspiracy either by Democrats or the Republican establishment, is likely to be a potent counter-attack for Moore.
This election seems to be coming down to one crucial question. What's more important, sexual assault allegations, many coming from teenagers, or having a Republican in the seat to help push through Trump's agenda? Alabama seems undecided.
There is one thing that may be certain, the GOP seems pretty screwed no matter who wins. If Jones manages to flip the seat, the GOP loses a vote and their Senate majority gets that much closer to vanishing. If Moore takes it, then there is the thorny question of what to do with the guy. Do Senate Republicans block his admittance? What will that cost them with their base? Do they allow him into the chamber, essentially allowing an accused child molester to serve alongside them? Filling the seat vacated by Attorney General Jeff Sessions should have been the safest bet in the world and now, thanks to Moore's alleged proclivities, it is a minefield of devastating political consequences.
[image via screenshot]
—
Follow Lawrence Bonk (@sidescrollers) on Twitter
Have a tip we should know? tips@mediaite.com