With Obama Set To Speak On Economy, Unemployment Claims and Foreclosure Rates Both Jump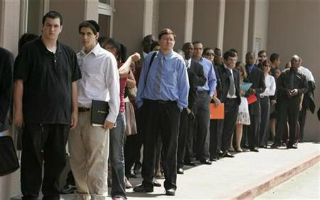 The U.S economy hasn't gotten much good news lately, and reports out of the Labor Department this morning don't look too strong either.
Applications for unemployment benefits last week rose from 380,000 to 386,000. A survey of economists by Bloomberg News had predicted a drop to 375,000. The numbers indicate that the economy is still stuck in neutral.
The middling figures were released alongside a report that showed home foreclosures rose 9.1 percent from April to May. But there is a silver lining in the mediocre numbers. A settlement between banks and the states that was finalized in April was expected to cause a rise in the foreclosure figure and may be a sign of willingness from the banks to start working through more settlements, according to Reuters:
"That the May numbers were up the month after that settlement was completed is an indication that lenders are more confident that there are clear ground rules to foreclose now, so they can play by the rules," said Daren Blomquist, RealtyTrac's vice-president.

"The banks are getting to a place where they consider their foreclosure processing issues resolved, so they're confident enough to go ahead and push through more foreclosures," Blomquist said.

Blomquist noted the jump in foreclosure starts was not a sign that a new crop of borrowers was beginning to miss payments, citing figures from the Mortgage Bankers Association indicating new delinquencies fell in the first quarter of 2012.
The mixed bag of economic numbers adds to a tough stretch for the White House. The reports come as the President is set to outline new plans in Ohio this afternoon to spur the struggling economy.
Follow Jack Friedman on Twitter
Have a tip we should know? tips@mediaite.com