'Would My Son Have a Place In Your America?': Khizr Khan Appears In New Hillary Ad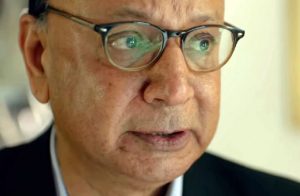 With less than three weeks left until Election Day, Democratic presidential nominee Hillary Clinton released a new campaign ad that has already received quite a bit of reaction.
The ad, titled 'Captain Khan,' features Khizr Khan, the father of slain Iraq War hero Captain Humayan Khan. Khizr Khan, who is Muslim, made headlines this summer with his appearance at the Democratic National Convention where he delivered an impassioned speech regarding GOP candidate Donald Trump's proposed Muslim ban. Trump responded by questioning whether Khan's wife wasn't allowed to speak, leading to widespread derision.
In 'Captain Khan,' Khizr Khan ends the ad by saying, "I want to ask Mr. Trump, would my son have a place in your America?"
Reaction on Twitter was largely praiseworthy, with many discussing how emotional the ad made them.
This is one of the most powerful political ads of this cycle. Hands down.https://t.co/H34YIrMTTs

— Rick Wilson (@TheRickWilson) October 21, 2016
This ad. #tears #HumayunKhan #KhanFamily #America https://t.co/Lh2m8Q07eZ

— Joy Reid (@JoyAnnReid) October 21, 2016
My nominee for best political ad of the cycle… Wowhttps://t.co/P3uBUS8PSe

— Taegan Goddard (@politicalwire) October 21, 2016
Honestly, this is the most powerful ad of this entire campaign – or maybe any campaign: https://t.co/cJUbyxyF2x

— Michael Cohen (@speechboy71) October 21, 2016
This objectively made me cry. https://t.co/nz66YHBx1L

— Julia Ioffe (@juliaioffe) October 21, 2016
Watch the video above, via Hillary for America.
[image via screengrab]
–
Follow Justin Baragona on Twitter: @justinbaragona
Have a tip we should know? tips@mediaite.com