WSJ Columnist: MSNBC Has a 'Pattern' of 'Hiring Black Mediocrities' to 'Race-Bait'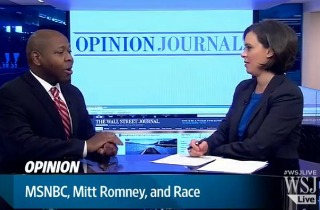 On Tuesday, Wall Street Journal editor Jason Riley joined WSJ Live host Mary Kissel to weigh in with this thoughts on the controversy surrounding MSNBC host Melissa Harris-Perry's comments about Mitt Romney's African-American grandchild. Riley said that MSNBC has established a pattern of hiring African-American hosts that he describes as "mediocrities."
Riley, a Fox News Channel contributor, insisted that he "didn't buy" Harris-Perry's first tweeted and later tearfully broadcast apologies to the Romney family and to interracial families across the country.
"She suggested that it was sort of a segment gone awry," he continued. "I somehow doubt that." He said that the intent of that segment was neither "uplifting" nor "constructive."
RELATED: Ann Coulter Calls Melissa Harris-Perry MSNBC's 'Token' African-American
"I think the segment went exactly as planned," Riley asserted. "Her apology was really about the blowback."
"I think there's a pattern at MSNBC of them hiring black mediocrities like Melissa Harris-Perry, Michael Eric Dyson, Touré, and, of course — the granddaddy of them all — Al Sharpton, simply to race-bait" Riley asserted.
He added that these and other MSNBC hosts routinely assert that "all of black peoples' problems are caused by white people, and if you disagree with that, Mary, you're a racist."
Riley concluded that MSNBC's modest ratings are "encouraging" that there is little "appetite" for the kind of discourse he identified. However, he said that these points of view are not "representative of the larger black population" or "responsible."
Watch the clip below via WSJ Live:
[Photo via screen grab ]
— —
> >Follow Noah Rothman (@NoahCRothman) on Twitter
Have a tip we should know? tips@mediaite.com