WSJ Columnist: Obamacare's Inevitable Implosion Will Discredit Entire Entitlement State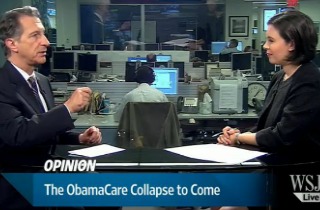 On Thursday, Wall Street Journal columnist Daniel Henninger sat down with editorial board member Mary Kissel to discuss a recent column in which he advocates for Congressional Republicans to abandon their effort to defund the Affordable Care Act. He said that the GOP should be pushing for the full implementation of the law because it is destined to implode. That implosion, he submits, will prove to the American public that comprehensive and expansive entitlement programs are not solutions to America's social welfare challenges.

"Republicans and conservatives, instead of tilting at the defunding windmill, should be working now to present the American people with the policy ideas that will emerge inevitably when ObamaCare's declines," Henninger wrote. "The discrediting of the entitlement state begins next Tuesday. Let it happen."
Kissel asked Henninger to respond to President Barack Obama who said that those warning of the structural problems with the ACA are merely appealing to partisan politics. Henninger said that the problems with the law are real and will become self-evident sooner rather than later.
RELATED: Fox's Wallace on ObamaCare Fight: GOP 'Made it Too Easy for Democrats'
"They've got some problems, Mary," Henninger said. "They need a lot of people to sign up for these exchanges or the program doesn't work."
"I think they feel that a lot of people out there are reluctant, for various reasons, to sign up to these exchanges," he continued. "And so Obama is trying to put the onus on Republicans if it fails."
"This is the fourth great entitlement," Henninger added. "It's huge. It's complicated."
"It's really an act of hubris," he asserted. "I think it's really a bridge too far for American liberalism to think they would have been able do this."
Henninger said that, when this entitlement fails, the American public will be open to more private sector-oriented solutions to the problems associated with the social safety net.
Watch the interview below via WSJ Live:
[Photo via screen grab ]
— —
> >Follow Noah Rothman (@NoahCRothman) on Twitter
Have a tip we should know? tips@mediaite.com