WSJ's Mary Kissel: Democrats Voting Against Bill Clinton's Reforms for Food Stamps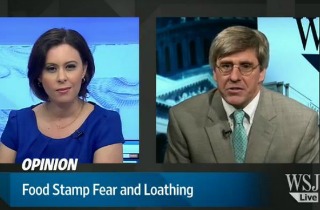 On Friday, Wall Street Journal editorial board members Mary Kissel and Stephen Moore tackled some of the claims made by Democrats relating to the House Republicans' proposed reforms to the Supplemental Nutrition Assistance Program (SNAP). While many Democrats are insisting that the GOP is simply taking food away from hungry and impoverished people, they said, the GOP is actually insisting on instituting reforms that were embraced by President Bill Clinton when he signed a successful welfare reform law in the 1990s. "What has happened to the party?" Kissel asked.

"The Democrats are painting this as if we're taking food out of the mouths of babies," Kissel said.
Moore began by detailing what the proposed reforms to the SNAP program are aimed at accomplishing. He said that the SNAP budget has doubled and the number of recipients has boomed during President Barack Obama's administration.
"It's by far the fastest growing entitlement program," he said. "What Republicans propose to do was three pretty common sense reforms, in my opinion, Mary."
Moore said that the reforms would ensure that eligible able adults without children must work or receive job training to receive nutrition assistance. The GOP's proposed reforms would also scale back the funds allotted to the Agriculture Department to promote SNAP with the aim of expanding the number of food stamp recipients. Finally, Moore added, the reforms would tighten eligibility requirements to reduce the instances of fraud.
"Those all make a lot of sense to me, Mary," Moore said.
RELATED: Sorry, 'SNAP Challengers': Meager Meals Misrepresent Food Stamp Program, Says WaPo Fact Checker
"Clinton promoted exactly these kinds of reforms," Kissel asserted. "Yet, yesterday not a single Democrat voted for these reforms. What has happened to the party?"
"That is a very perplexing question," Moore responded. He recalled how work requirement to receive food stamps was a hallmark of the 1996 welfare reform plan.
He added that, while it was controversial to insist on work requirements for welfare recipients at the time, it was highly successful at helping lift assistance recipients out of poverty. "Democrats and their liberal constituencies are totally against any work requirement for food stamps," Moore observed.
Moore and Kissel warned that another fight between the House and the Senate was in the offing to determine if food stamp reforms would survive.
Watch the clip below via WSJ Live:
h/t WSJ Live
[Photo via screen grab ]
— —
> >Follow Noah Rothman (@NoahCRothman) on Twitter
Have a tip we should know? tips@mediaite.com