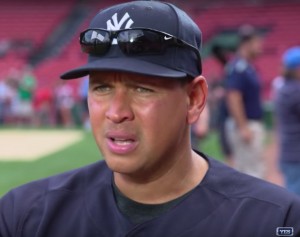 The farewell tour, such as it is, has only been five days so far, and it will only last one more. But Joe Girardi is over it just the same.
The Yankee skipper has not gone out of his way to accommodate retiring superstar Alex Rodriguez as he takes a victory lap of sorts this week. Despite the wishes of Boston Red Sox fans who chanted "We want A-Rod!" (only to boo him when he finally did appear), Girardi did not play Rodriguez in Tuesday night's Yankees-Red Sox game, and only used him for one at-bat Wednesday.
And on Thursday, during an appearance on The Michael Kay Show, A-Rod said that he asked to play third base on Friday night in what will be his final game, but Girardi refused.
"My job description does not entail a farewell tour," Girardi said to the media on Wednesday, in an exchange chronicled by ESPNs Andrew Marchand.
I'm putting out what I feel is the best lineup. As we sit around and talk about it as coaches, that's my job. That is in my job description. My job description does not entail a farewell tour. My job description is to try and win every game and put everyone in the best possible position, and that's what I'm trying to do.
Girardi originally said he'd play Rodriguez every day this week if he wanted, before changing his mind. Rodriguez was "surprised" and "shocked" by this. Girardi's response?
I know he didn't like it, but again, I have a responsibility to the game of baseball, and no one individual is bigger than this game. No one. No one, no one, no one.
[h/t The Big Lead]
[image via screengrab]
–
Follow Joe DePaolo (@joe_depaolo) on Twitter
Have a tip we should know? tips@mediaite.com
Joe DePaolo - Senior Editor