'You Might End Up in Jail': O'Reilly, Beck Collide on Paul Manafort's Questionable Foreign Interests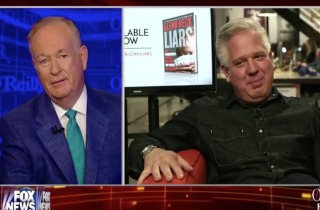 Bill O'Reilly had Glenn Beck on to discuss his thoughts about Donald Trump on Wednesday, and it dissolved into a clash about how the mogul's rhetoric is creating alarming levels of cynicism in America's crucial institutions.
Beck recently said that he's turned the corner on #BlackLivesMatter by saying that he gets why the movement uses the phrase for its name despite slams from critics. Even so, Beck compared Trump to the movement on Monday by saying both of them try to create followings that "so distrust and hate the system that they will buy anything — It was a rigged election! The media ought to go to jail!"
Beck has long been a conservative critic of Trump's, and on The O'Reilly Factor, he snapped at the insinuation that he was "nitpicking" the mogul by blasting him for hiring a firebrand like Stephen Bannon. Eventually, Beck and O'Reilly made it to the recent revelations of campaign manager Paul Manafort, where they butted heads over the possibility that Manafort committed a felony with his past dealings with Ukraine and Russia.
Boom! O'Reilly GOES OFF on Glenn Beck's Can of Crazy: 'YOU Might End Up in Jail if You Keep Saying this Stuff!'https://t.co/Pmvma84nXl

— The Patriot (@ThePatriot143) August 18, 2016
"You're throwing stuff against the wall," O'Reilly said. "You don't have any evidence to put the man in jail, and you know you don't… If you keep saying this stuff, you might end up in jail."
Beck shot back that it's Trump's supporters who are getting aggressive with the media and critics by chanting "put them in jail" in a similar manner to what they do towards Hillary Clinton.
Watch above, via Fox.
[h/t TheBlaze]
[Image via screengrab]
— —
>> Follow Ken Meyer (@KenMeyer91) on Twitter
Have a tip we should know? tips@mediaite.com