'You'll Like Me Very Much, Believe Me': Trump Gives Rambling Speech to GOP Jewish Group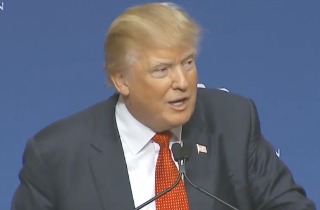 Donald Trump spoke to the Republican Jewish Coalition today, and like most Trump speeches, it was basically him throwing out various hot takes, only this time mixed in with some weird stereotyping and a few boos.
Trump touted his past and current support for Israel, bragging that he would "do more for Israel than everybody else."
But at various points during his speech earlier, he made some observations about how there must be a lot of people in the room who negotiate deals. He said, "Is there anybody that doesn't negotiate deals in this room?… Perhaps more than any room I've ever spoken to."
And not only did he repeatedly talk about the deal-making skills of himself and the people in the room, he surmised that probably the reason the group won't support him is because he won't take their money:
"You're not gonna support me, even though you know I'm the best thing that could ever happen to Israel, and I'll be that. I know why you're not gonna support me, you're not gonna support me because I don't want your money. Isn't it crazy? No, it's true. If I wanted your money, I think I'd have a damn good chance, and I think I'd get more money than everybody else."
During the brief Q&A session, Trump was repeatedly asked about his thoughts on an Israeli peace deal and his position on the '67 borders. Trump said, "I want to wait till I meet with Bibi [Netanyahu]."
There were a few boos in the audience for his dodge. Trump responded, "Who's the wiseguy? Do me a favor, just relax, okay? You'll like me very much, believe me."
You can watch Trump's entire speech above.
[image via screengrab]
— —
Follow Josh Feldman on Twitter: @feldmaniac
Have a tip we should know? tips@mediaite.com
Josh Feldman - Senior Editor