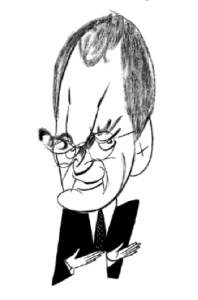 A "Talk of the Town" item in this week's New Yorker uses the extortion case involving Dave Letterman and CBS producer Robert Halderman — which keeps getting weirder and weirder, and doesn't look like it's going away any time soon — as a jumping-off point for a broader discussion about blackmail.
Lizzie Widdicombe begins the piece invoking the would-be extortion case surrounding Orson Welle's Citizen Kane, which put then–media mogul William Randolph Hearst's reputation on the line:
Moral-reasoning pop quiz: There's a film coming out—a thinly disguised portrayal of a media mogul — and word is that if it's released it will hurt the mogul's reputation. Powerful people intervene: they call a meeting and offer the movie studio money — eight hundred and forty-two thousand dollars—to scrap the movie and destroy the negatives. Would it be wrong for the studio to take the money? "It's an interesting question," James Lindgren, a law professor at Northwestern, said last week. The mogul in question was William Randolph Hearst, and the movie was Orson Welles's "Citizen Kane." The studio turned down the offer, but, Lindgren asked, "had they given in and taken the money, could the studio have been prosecuted for extortion?"
Widdicombe continues by questioning the essence of blackmail, citing several law professors and blackmail experts, arriving at the question: If screenwriting is legal, and exchanging $2 million with somebody else is legal, what's wrong with putting them together? Definitely worth a read.
Lizzie Widdicombe's "Brainteaser: You've Got Mail," on newsstands and online tomorrow.
Illustration courtesy of The New Yorker.
Have a tip we should know? tips@mediaite.com