Andy Levy Accuses Ann Coulter Of Playing The 'Race Card' In Tense Red Eye Clip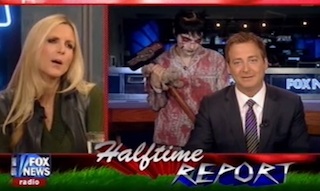 Yesterday night, during Red Eye's Halloween show, Andy Levy and Ann Coulter got in a heated argument after he accused her of playing "the race card" in response to the Herman Cain sexual harassment allegations. If you need proof of how at odds the two were, you can look at the simple fact that, despite there being a woman in a zombie costume standing behind Levy the entire time, none of the suspense was coming from her.
Coulter (like Rush Limbaugh) has been quick to allege that the entire scandal is nothing but a racially motivated smear attack from dirty, racist liberals. How quick was she? Well, she was already pushing that idea as hard as she could the very moment the story broke. Her statements have made a miniature scandal of their own after she said on Hannity last night that "our blacks are so much better than their blacks." Shockingly, many people weren't thrilled to see a white woman go on TV to rate the quality of "blacks."
RELATED: Ann Coulter On Herman Cain: Our Blacks Are Better Than Their Blacks
What's interesting is that, just a few hours before her Hannity appearance, she espoused the same views elsewhere in the Fox News studios and was called out for them. While Red Eye airs hours after Hannity, it tapes earlier so Levy had already given Coulter a small taste of the reaction that much of America was giving her last night.
During his "Halftime Report" segment, Levy pointedly said to Coulter that it was "amazing" to him "that there are Conservatives now who have no problem playing the race card" after they "rightly" accused liberals of doing the same for years. Coulter was not about to take that, arguing that she would complain about racism when it was "true."
The two went back and forth for a minute until Levy asked her if she believed Politico would have published the Cain story had he been white. When Coulter responded no, Levy said that that was "just the most ludicrous thing [he'd] ever heard in [his] life."
It's a pretty striking clip and one entirely worth watching twice; Once for the debate and a second time to see the moment when the zombie in the background starts getting uncomfortable. "Um…they're fighting now. Should I still be doing this?"
Watch the clip from Fox News below:
Have a tip we should know? tips@mediaite.com