Andy Levy Confronts Tucker Carlson Over White House Heckler: 'I Love You, But That's Wrong'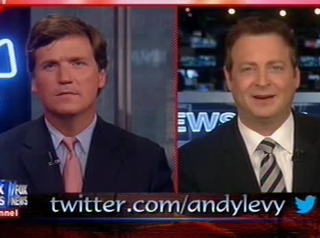 Tucker Carlson made his first TV appearance last night since Daily Caller reporter Neil Munro heckled President Obama during his immigration policy speech, and he had some explaining to do. On last night's/this morning's Red Eye, Carlson argued that "a lot of journalism is unseemly" and told the panel he was still "proud" of Munro, though failed to convince Andy Levy of why that behavior was appropriate.

RELATED: On Hannity, Neil Munro Defends Interrupting Obama During Speech
Host Greg Gutfeld brought up the topic, noting that "there are a lot of people, even in this very place called Fox News, where you work, who thought it was unseemly." Carlson agreed to a certain extent: "a lot of journalism is unseemly," he explained, because "it is the process of getting people to divulge things they don't want to divulge." "We work at loggerheads with the people we cover," Carlson added, explaining that when he saw the video of his reporter all he saw was "a reporter who is really anxious to get the question answered, and the President is annoyed by it," calling it "nothing new."
Panelist Eli Braden tried to explain it in larger terms, asking, "what if every reporter did that?" Carlson made clear he was not worried about "thinking through the consequences for society," since his job is just to manage his own employees; "I think he's a great reporter, and I'm proud of him."
During the Halftime Report, Levy brought up the topic delicately, reminding Carlson, "you know I love you, right?" but adding that Munro's actions were "wrong, he can't do that." "Of course he can!" Carlson replied, making the point again that "reporters exist to get information; the President exists to cloak information." Levy made the case that "adversarial journalism" and just yelling at people were two very different things, as were shouting positive and negative things, since Carlson argued that the President was comfortable with people attending rallies shouting words of support. "To watch the White House Press Corps as a group side with the President against a fellow reporter is nauseating to me," Carlson argued, though Levy countered that he thought that was too broad a conclusion to make from opposing Munro's singular action. "Andy, why are you protecting the President?" Gutfeld interjected.
Carlson's discussion with the panel over the event followed by his Halftime talk with Levy via Fox News below:

—–
»
Follow Frances Martel on Twitter
Have a tip we should know? tips@mediaite.com