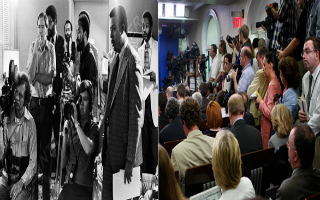 A recent column by the Washington Post's Chris Cillizza in which he wonders aloud if it is "possible for a president — any president — to succeed in the modern world of politics" has tickled a number of conservative opinion writers. Some have set out to show that Cillizza's is a familiar lament – with roots in the reelection bid of President Jimmy Carter in 1980. Then, as now, members of the media wondered if the modern era had made the presidency obsolete or if the American republic had become ungovernable. Fortunately, neither observation proved to be true.

RELATED: News Report From 1980 Predicts TVs Merging With Computers, Failing Newspapers
Red State.com blogger and CNN contributor Erick Erickson cited Cillizza's quote and Daily Beast writer Andrew Sullivan making a similar observation. "[I]f America cannot grapple with its deep and real problems after electing a new president with two majorities, then America's problems are too great for Americans to tackle," writes Sullivan.
"Due to the evolution of our politics and media, we may never see a two-term president again," Cillizza quotes former George W. Bush advisor Mark McKinnon.
"Have we become so shallow and vain as to think our generation and our time is more consequential than that which came before us," asks Erickson, sounding a note of exasperation.
Wall Street Journal writer James Taranto dug up several quotes from journalists and editorial writers making some short-sighted observations about the nature of the presidency in the Carter-era which could have been ripped from today's op-ed pages.
The New York Times Tom Wicker wrote a 1980 opinion piece that would be perfectly at home in the opinion pages of any major newspaper today:
"In the same years when presidential politics changed so greatly, governing did, too," writes the Times' Tom Wicker: "It got harder. . . . The rise of single-interest politics and independent legislators has made it more difficult to put together a governing coalition; sophisticated new lobbying techniques wielded on behalf of virtually every interest group further complicate the task. And a strong argument could be made that the major issues–energy and the economy, for instance–are more complex than they were."
"Watching President Carter try to juggle all the contradictory foreign and domestic problems of the nation during a presidential election and an economic recession, you have to wonder who can do it and who can govern America," Taranto quotes another Times columnist, James Reston.
In 1980, former Washington Post editorial writer Walter Shapiro wrote, "the presidency has grown, and grown and grown, into the most powerful, most impossible job in the world." The pull quote was taken from an editorial entitled "Voters Expect to Elect a Mere Mortal."
Voters have lowered their expectations of what any president can accomplish; they have accepted the notion that this country may never again have heroic, larger-than-life leadership in the White House. . . . Some voters have entirely discarded textbook notions about presidential greatness and believe that Carter is doing as good a job as anyone could in facing new and difficult problems and in coping with an independent and restive Congress.
Taranto closes with a journalist's 1980 speech comparing the Democratic presidential nominating convention addresses that Carter gave in 1976 and 1980. The journalist noted that Carter's speech in 1976 was an "entirely positive statement" while his 1980 address evoked the "sounds of slogging from a worried politician who knows he is in deep trouble." Many suspect that a note of "deep trouble" will be sounded by President Barack Obama in Charlotte this summer.
Taranto closes his piece by noting that history proved rather quickly that these observations lacked foresight. "We learned in the 1980s that the presidency was still big. It was Jimmy Carter who turned out to be small," Taranto concludes.
> >Follow Noah Rothman (@Noah_C_Rothman)on Twitter
Have a tip we should know? tips@mediaite.com