Barbara Walters' Message To Trump: I'm Your Friend But 'You're Making A Fool Of Yourself…Stop It'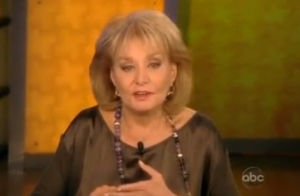 On Thursday, The View opened with a discussion about none other than Donald Trump and his $5 million dollar to President Barack Obama — which the president himself mocked during his appearance on Jay Leno's show. As a whole, the co-hosts didn't have much of anything nice to say about the ordeal, with Barbara Walters addressing her own personal message to Trump.
"Celebrity Apprentice on again?" Joy Behar asked. "That must be why."
"It's crazy because, you know, you would think if he wants a passport, that the birth certificate that he's been showing endlessly, the information would probably be the same," Whoopi Goldberg added. "And it just doesn't make sense."
It is the "birther thing," she added. "But it's like, get over it."
Sherri Shepherd argued that Obama's initial release of his birth certificate "opened the door to make him think he can do anything." Trump said releasing the college records will end the question, she said. "Didn't you say that about the birth certificate? So your stuff is never-ending."
The ladies then went on to note Obama's reaction to it — which was a well-played Kenya joke — and agreed that Obama won that round.
Then, Walters sought to address a message to Trump. Looking directly into the camera, she told him:
You and I have known each other for many years — and you know that I am your friend, and I think you are a brilliant businessman, and you are great on television, and you have a fascinating personality. Donald, you're making a fool of yourself. You're not hurting Obama. You're hurting Donald, and that hurts me because you're a decent man. Stop it. Get off it, Donald.
Blunt.
UPDATE: Donald Trump responds.
The clip below, via ABC:

Have a tip we should know? tips@mediaite.com