Barney Frank: Newt Gingrich 'Would Be A Weak Candidate, He Would Lose Heavily'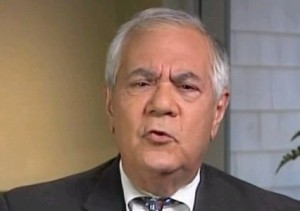 When Newt Gingrich suggested during a Republican debate in October that Congressman Barney Frank be jailed for his role in the financial crisis, it clearly touched a nerve, as Frank has made multiple media appearances in the past few weeks going after Gingrich and dismissing the idea he is a serious candidate for the presidency. On This Week today, Frank continued piling on the former Speaker, saying he would make a weak candidate against President Obama in next year's election.
RELATED: Barney Frank Talking Trash: Newt Gingrich Is A 'Lobbyist And A Liar'
Christiane Amanpour brought up Frank's assertion that Gingrich winning the nomination "would be the best thing to happen to the Democrats since Barry Goldwater," and asked him to clarify exactly what he meant in his earlier remarks. Frank claimed Gingrich is conservative enough for the Republican base but moderate enough to attract independents, which could prove to be an electoral boost as compared to someone like Mitt Romney.
And speaking of Romney, it was at that point in the interview when Frank decided to go into an incredibly elaborate metaphor in which the GOP race is exactly like The Wizard of Oz.
"Obviously Mitt Romney is the tin woodsman, without a heart. And Rick Perry is clearly the scarecrow… Newt is the Wizard of Oz. Newt is the one who… I just think there's nothing there, he's ginned up this whole big thing, but when people focus on him as opposed to him being the Not Romney, this is a man who served as Speaker, twice reprimanded by the House… I just think he is an obvious weak candidate."
Amanpour shifted the conversation to the Democratic side of the race, and asked Frank what the president's reelection team is going to have to use as a strategy going forward. As she pointed out, it's very hard for politicians to get credit for a crisis averted. Or, as Amanpour put it, "Boy, things really suck, but if it wasn't for me they would suck worse."
RELATED: Barney Frank: Newt Gingrich Made Millions By Influencing Public Policy
Frank defended the steps President Obama has already taken to try and fix the economy, and labeled the Federal Reserve as an institution that has been "unfairly demonized." He predicted the Democrats will have an advantage because of the Republicans' "cultural lag" on issues like Afghanistan.
Watch the video below, courtesy of ABC:
Have a tip we should know? tips@mediaite.com
Josh Feldman - Senior Editor