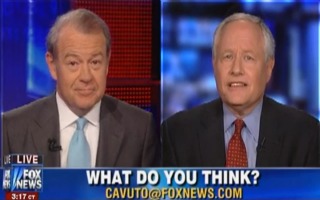 On Monday, Weekly Standard Editor Bill Kristol appeared on Fox News Channel where he discussed an editorial published over the weekend in which he recommends Mitt Romney "go for gold" and select either Rep. Paul Ryan (R-WI) or Sen. Marco Rubio (R-FL) to be the vice presidential nominee. Kristol said that he expects the vice presidential pick to be announced on Thursday in preparation for a bus tour which will take the 2012 GOP ticket to a number of battleground states.

RELATED: ABC News' Jonathan Karl Talks To Mediaite About Romney's Potential V.P. Pick That Could Reset The Race
Fill-in host Stuart Varney asked Kristol to elaborate on his publication calling for Ryan or Rubio to join Romney on the Republican ticket. Kristol took the opportunity to say that he has recently learned that New Jersey Gov. Chris Christie is also still in the running as a potential vice presidential candidate.
Kristol went on to say that he thinks Thursday is the day to watch as the most likely time in which Romney would reveal his V.P. pick
"If you look at Governor Romney's schedule, he's got events in Illinois Tuesday, Iowa Wednesday, a fundraising breakfast Thursday morning in New York – his calendar then is clear, so far as I can tell, Thursday afternoon and Friday," said Kristol. "Then he begins a barnstorming tour Saturday in Virginia, North Carolina Sunday, Florida Monday, Ohio Tuesday."
"It'd be pretty weird, I think, to do this four-day tour through four swing states – big bus tour, a lot of excitement – without having picked a V.P. and with that, sort of, hanging over him and dwarfing whatever message he wants to get out," Kristol continued.
"I now believe the pick would be made Thursday afternoon or Friday," said Kristol, saying that he believes Thursday is the more likely of the two days to reveal a running mate. "Let the guy go on the morning shows Friday morning. Dominate the news over the weekend – very exciting bus tour – with Romney accompanied by either Christie, Ryan or Rubio."
Watch the segment below via Fox News Channel:
> >Follow Noah Rothman (@Noah_C_Rothman) on Twitter
Have a tip we should know? tips@mediaite.com