Bill Maher And Chris Matthews Fight With Conservative Guest Over Why GOP Hates Obama
Maher And Matthews Fight With Conservative Guest Over Why GOP Hates Obama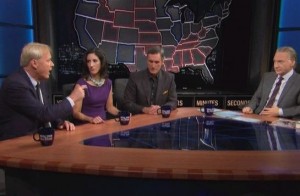 Bill Maher and Chris Matthews squared off with conservative radio host Roger Hedgecock on Real Time tonight over the Republicans' economic policies and why they hate Obama. Matthews told Hedgecock that most of the economic criticisms have not-too-subtle racial implications, trying to get him to admit that he and his fellow conservatives just have a blanket hatred of Obama.
RELATED: WaPo Editorial: Romney's 'Crude Political Attacks' On Obama 'Discredit' His Campaign
Maher said that no matter who the Republicans nominated for president, they would have been as weak as Romney, despite criticisms from the right that Romney's campaign has been especially bad. Maher argued the Republicans are in trouble because they just don't have any "new ideas." Time editor Rana Foroohar said that the Republicans are not presenting any coherent policies.
And as for the infamous "47 percent" video, Maher found it unbelievable that one person was telling Romney he should be proud to be incredibly wealthy. Hedgecock countered by saying that there's another school of thought in the United States that bashes success, which Maher referred to as a "strawman" argument. Matthews slammed Romney for believing that wealth means success, and said the "focus on money" is Romney's main problem.
Foroohar dismissed the reality of the "bootstraps" concept promoted by the Republican party, pointing to dwindling social mobility in the United States. Matthews found it appalling that Republicans like Romney think that poor people are "lazy." Hedgecock told Matthews to calm down and accused him of lying, to which Matthews shot back by suggesting the GOP is playing a "racial game." Matthews confronted Hedgecock and tried to get him to admit that he just doesn't like Obama.
Watch the video below, courtesy of HBO:
—–
Follow Josh Feldman on Twitter: @feldmaniac
Have a tip we should know? tips@mediaite.com
Josh Feldman - Senior Editor