Bill O'Reilly: 'It's Like Football…I Go To (Jon Stewart's) Home Stadium And I Beat Him'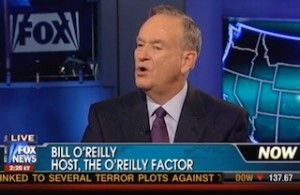 Fox News alpha-male and best selling author Bill O'Reilly continued to shill his new book Killing Lincoln with an appearance on America Live with Megyn Kelly today. An otherwise unremarkable appearance turned interesting when Kelly confronted O'Reilly on why he'd want to go on The Daily Show and give attention to host Jon Stewart (who has, on occasion, turned his comedic focus on Kelly herself). O'Reilly explained that he liked the added attention from such appearances, before claiming he "likes" and "beats" Stewart.
We are often very laudatory of both O'Reilly and Stewart for engaging in spirited, respectful, and almost always entertaining television, especially given the Balkanized world of opiniotainment in which we live. As we cited earlier in the week, Stewart and O'Reilly are both rightfully seen as more reasonable participants in the opinion media racket.
RELATED: Bill O'Reilly And Jon Stewart Argue Class Warfare And Taxes In Unaired TDS Clip
But while O'Reilly is clearly using some hyperbole in his assertion that he is the winner in the most recent tête à tête, his self-satisfied grin (and his Talking Points segment last night) suggest that he truly believes that he came out the "winner" of the recent segment. Yes, O'Reilly made some salient points while appearing on TDS, but so did Stewart. The segment in question was not even close to a real debate, but rather, a simple and reasonable exchange of ideas between the two. To proclaim oneself as "winner" (even in jest) seems to miss the mark.
RELATED: Bill O'Reilly On His Daily Show Appearance: Tried To 'Talk Some Sense' Into Jon Stewart
Part of the reason that O'Reilly probably considered himself the winner was how he promoted a story of government waste that centered on a so-called $16 Muffin purchased by the U.S. government. Turns out, that story may not be as on point as was originally thought. One can only dream of a day when Stewart and O'Reilly would sit down for a real debate – may we suggest an uninterrupted hour long program – and truly discuss the many political issues that so divide the country today. If that were to ever happen, that would be the true beginning of a new found harmonic convergence.
Watch the segment below, courtesy of Fox News:
Have a tip we should know? tips@mediaite.com
Colby Hall - Founding Editor