NAACP Member Decries Organization's 'Brain Death' With A Little Help From Andrew Breitbart (Update)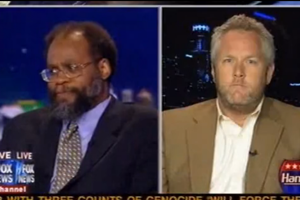 The NAACP's decision to denounce the Tea Party movement for what it deemed "tolerance" for racism is coming under fire not just for attacking the Tea Parties, but for specifically mentioning a recent incident where Tea Party activists were accused of shouting racial and homophobic slurs at Congressmen. Andrew Breitbart vehemently denies the claim, and along with Michael Meyers of the NY Civil Rights Coalition, took on the NAACP on last night's Hannity.
Sean Hannity himself mostly kept the role of moderator while letting Meyers and Breitbart develop their argument against the NAACP. Breitbart brought up many of the same points he has argued on the matter before– videos he claims prove the Tea Party protesters did not shout racist and homophobic insults at Reps. James Clyburn and Barney Frank and an update on his unclaimed $100,000-dollar reward for proof of said insults– but sounded tame compared to Meyers, who he called "an American hero" for speaking out against the NAACP.
It took a second to get used to seeing Breitbart play the straight man to Meyers' energetic delivery of some very strong comments rather than Breitbart being the more stylistically aggressive guest. Meyers condemned the NAACP for "showing signs of Alzheimer's" and engaging in "racial calumny," calling it's president, Ben Jealous, "a nobody" and arguing that, with this attack on the Tea Party, "it has betrayed its principles as a sane organization." He also called the NAACP "the political arm of the White House" and suggested they label rooms in the White House for its guests from the NAACP. "It does not see, it does not recognize, significant racial progress in this nation," Meyers concluded.
So yes, despite making very aggressive points (thought not against the NAACP directly), Breitbart manages to come off as the cooler head in the debate. In contrast to Meyers, he did not take on the NAACP itself so much as point out that he perceived the Tea Party attacks to be unfounded and call for further investigation into the attack on Kenneth Gladney by people dressed in SEIU attire, for being "a black tea party member… they call him an 'Uncle Tom.'" The phrase "Uncle Tom" makes several appearances in this clip, none of which is tied to self-identified members of the Tea Party movement.
UPDATE: Mr. Meyers was originally erroneously described in this post as a Tea Party member. He has reached out to us and clarified that he is not a member of the Tea Party, but a "well-known liberal" and long-time member of the NAACP. We regret the error.
Video from last night's Hannity below:

Have a tip we should know? tips@mediaite.com