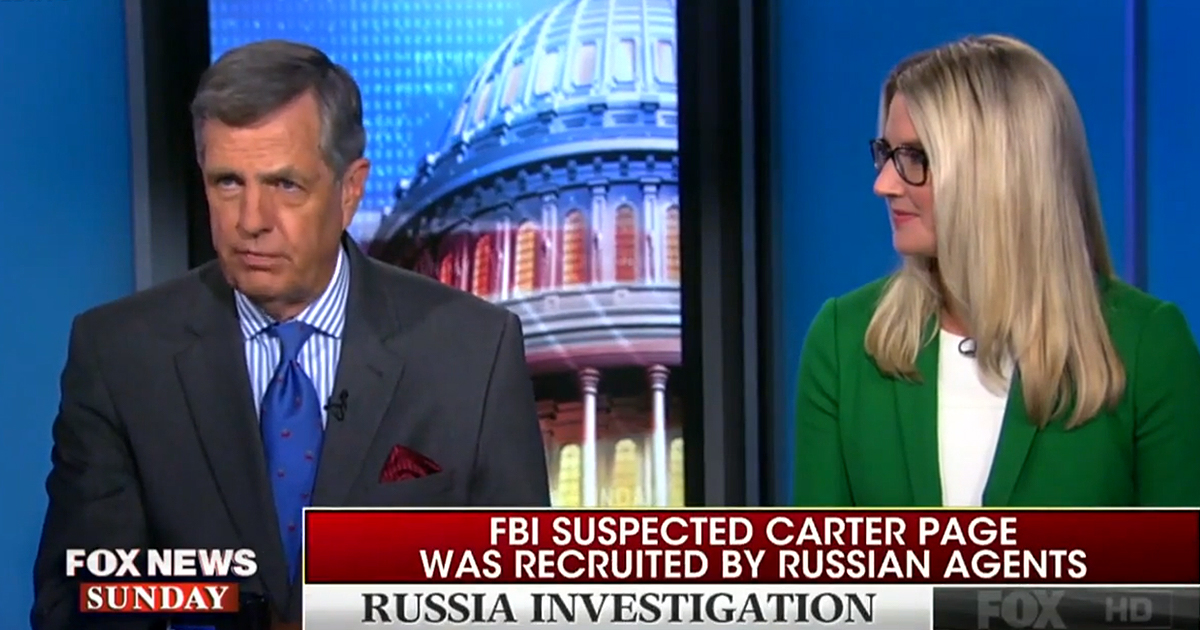 On Fox News Sunday, conservative columnist and commentator Brit Hume of Fox News told guest host Bret Baier that President Trump's claim about the FISA warrant are just plain incorrect. He says even if some parts were "improper", the overall FISA warrant was not illegal.
Hume was on with Fox hosts Marie Harf, and Guy Benson, as the group discussed the document release on Saturday regarding the Carter Page FISA warrants. President Trump tweeted on Sunday that the documents showed the FISA warrant was "illegal" but Hume flat disagreed.
"Not illegal as far as I can tell. It was approved by the judge, which is the process it's supposed to go through," Hume said matter-of-factly. "I mean I think it may well have been improper and I think that as Guy suggests and as the document reveals, there's stuff in that FISA warrant application that has no business being there. That does not make it illegal. It may make it improper."
Harf added to that, saying that there were subsequent renewals that only affirmed the legality.
"It was removed three times, which means you had to get independent evidence that it was producing usable intelligence," she said. "And I will say this is not a witch hunt. This is not the only thing that is part of the Russia investigation and the FISA application wasn't put in for Carter Page until he left the Trump campaign. So the idea that this was part of spying on the Trump campaign just isn't backed up by the timeline."
Watch the clip above, courtesy of Fox News.
[Featured image via screengrab]
—
Follow Caleb Howe (@CalebHowe) on Twitter
Have a tip we should know? tips@mediaite.com