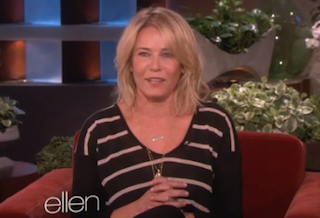 Chelsea Handler dropped by The Ellen DeGeneres Show Thursday to help clarify those rumors that have been circling about her possibly moving to CBS to replace Craig Ferguson in 12:35am time slot following The Late Show with Stephen Colbert next year. Despite what you may have seen on her Instagram feed, Handler insisted that she "would never go to CBS."
As DeGeneres explained, speculation regarding Handler and CBS heated up earlier this week when the E! host, who had been rumored to take over for Letterman before Colbert got the gig, posted this photo featuring a prominent CBS logo and the caption "Business meeting."
CBS quickly squashed the rumors by releasing this statement to The New York Post:
"There are no discussions with Chelsea Handler regarding the network's 12:30 late night broadcast; her meeting with CBS yesterday was a general meeting with our syndication group."
Handler, who has decided to end her current late night show Chelsea Lately at the end of this year when her contract expires, confirmed as much on Twitter Wednesday:
I have never had nor will have any desire to take a job someone else has already had. Speculation to the contrary is inaccurate. Godspeed

— Chelsea Handler (@chelseahandler) April 16, 2014
On Ellen, Handler got more specific, telling the host, "I would never go to CBS." She added, "My mouth? What would they do with me there? I would never be on a regular network. I would never do that to my fans or to myself or to the network."
"I enjoy bad things," she continued. "I'm a bad girl, and who wants to reel me — I mean, I wouldn't want to reel me in, that wouldn't be fun for anyone." As for the man who ended up getting Letterman's job, she said, "his fake persona is more respected than my real persona."
What about the possibility of her taking Colbert's soon-to-be vacant time slot on Comedy Central? Handler reiterated the sentiment of her tweet, saying she doesn't want to take a job "that somebody else has already done."
Handler said her only real plans for after her current show ends — despite the meeting with CBS — are to "vacation and sleep," possibly in Spain for a month. "Then I'll come back and probably get a job waiting tables or something," she joked.
Watch video below, via The Ellen DeGeneres Show:
[photo via screengrab]
— —
>> Follow Matt Wilstein (@TheMattWilstein) on Twitter
Have a tip we should know? tips@mediaite.com