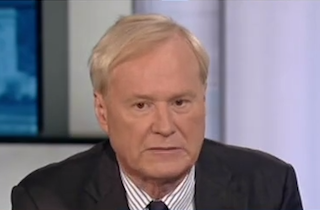 Appearing on Morning Joe Wednesday morning, Hardball host Chris Matthews said that President Barack Obama had put his party in a "wicked position" in the House of Representatives, forcing House Minority Leader Nancy Pelosi and other congressional Democrats to vote for a Syrian war resolution many of them oppose.
"Let's go all the way down to the final stretch here," Matthews said. "You've got [John] Boehner trying to corral enough votes that he can at least dribble out a few of them, and Pelosi stuck with the challenge of a minority caucus where she has to deliver a majority vote. You're watching Boehner there dribbling out a few votes here and there, as the clock ticks down to zero, and she has to make up the difference. If you have the Hastert Rule in effect, I don't think you even have this vote, but apparently it won't be in effect."
"So you'll have minority Republican vote, and Pelosi's going to have to make up the difference with the minority caucus. She's going to have to come in with a supermajority of Democrats to support their Democratic president. This is a wicked position they have put her in. Maybe she can meet the standard. But I don't know whether [Chief of Staff Denis] McDonough and the president walking along the south lawn the other day were thinking about the endgame."
"I think the Democrats are going to be forced to sacrifice men and women who really, really don't want to vote for this," Matthews concluded. "They're going to have to vote for it to save the president's hide. That's a bad position to put your party in."
Matthews agreed with host Joe Scarborough that parties tended to support their own leaders' war efforts.
"When you hear Barbara Boxer, when you hear Jim Moran, you have to wonder what they would have said had it been a Republican president," Matthews said. "Clearly people are changing sides. Just like the Democrats who supported Lyndon Johnson after the Vietnam war, after it was over they turned on Nixon. The same exact people. So partisanship shows its ugly head here."
Watch the full clip below, via MSNBC:
————
>> Follow Evan McMurry (@evanmcmurry) on Twitter
Have a tip we should know? tips@mediaite.com