Chris Wallace: 'McCain Was Crazy' For Not Attacking Obama On Rev. Wright In 2008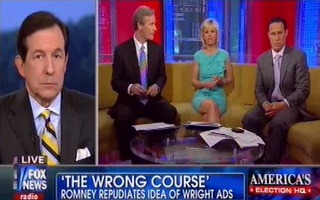 On Friday's Fox & Friends, Fox News Sunday host Chris Wallace weighed in on leaked reports that a pro-Mitt Romney super PAC was preparing to release ads linking President Barack Obama to Rev. Jeremiah Wright. Romney repudiated that PAC and urged them not to air those ads. Wallace said that there is a "double standard" when it comes to discussing Obama's past as opposed to Romney's. He also said that Sen. John McCain (R-AZ) was "crazy" for not attacking Obama on his association with Wright in 2008.

RELATED: Chris Wallace To Marco Rubio: Can Romney Win If Obama Is Crushing Him With Hispanic Vote?
Co-host Gretchen Carlson introduced Wallace and asked him what he thought of Republican presidential candidate Mitt Romney's decision to repudiate a pro-Republican Super PAC's leaked planed Rev. Wright ads. Carlson said that people are asking if there is a "double standard."
"Some newspapers have been able to write stories about Mitt Romney that some people don't think are fair either," said Carlson.
"Of course there's a double standard," said Wallace. "As far as Rev. Wright is concerned, I think that it had a lot of relevance. When you look back on it, McCain was crazy not to bring it up and to – not in a matter of exploiting it – that is a legitimate issue."
Wallace said that the President, having spent decades in the pews of Rev. Wright's church, should make him and the church open to scrutiny. "He's been president for four years now, so I don't know that it is as relevant as it used to be," said Wallace.
"I guess the argument in terms of the double standard would be—it wasn't the Obama campaign that did the story about the 15-year-old Mitt Romney, it was the Washington Post," said Wallace. "So there's a difference between an independent newspaper and the campaign itself."
Wallace continued to say, however, that this whole episode ends up being a plus for Romney. The public is once again reminded about Rev. Wright and Romney "can sit there and say 'I took the high road.'"
Watch the segment below via Fox News Channel:
Have a tip we should know? tips@mediaite.com