Chuck Todd On Importance Of Biden's Gay Marriage Comments: 'Gay Money Has Replaced Wall St. Money'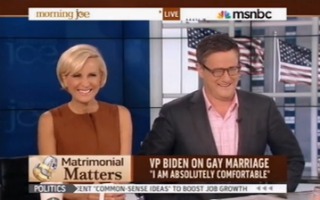 On Monday, Morning Joe host Joe Scarborough approached Vice President Joe Biden's recent comments about same-sex marriage with a hearty dose of skepticism. Biden, you may recall, told Meet the Press's David Gregory this weekend that same-sex marriage comes down to an issue of "Who do you love? And will you be loyal to the person you love?"
"They spent a lot of time afterward trying to walk that back," Gregory shared, "first saying that the Vice President was speaking for himself, and then saying that he was totally consistent with President Obama." He does think that this administration is "poised" to change its stance on same-sex marriage as President Obama's ideas on it "evolve," as he put it.
RELATED: VP Joe Biden Comes Out In Favor Of Gay Marriage, Name-Drops Will & Grace
Scarborough found it noteworthy that someone would "evolve" on such an issue at the age of 50.
MSNBC's Chuck Todd then shared a story about Biden having been moved after attending a fundraiser at the home of a gay couple with a child.
"Well, is that the first time he's ever been around a gay couple?" joked Scarborough. "'Oh, my gosh, they did not eat the child's head! Maybe this is ok.'"
"This is the story they've cooked up to explain the evolution?" he added.
Explained Todd:
They are so sensitive to Biden doing this because, number one, gay money in this election has replaced Wall Street money. It has been the gay community that has put in money in a way to this President that is a very, very important part of the fundraising operation for the President Obama campaign. The second part of this, they are sensitive to the fact that here they have done everything to marriage saying they don't want to take away anybody's rights that already have them, but they don't like the idea that it brings attention to what you were just saying. What Biden has done has brought attention to the fact that the President is not, quote, "there yet."
Gregory then added that the Obama administration is continuing to change:
I do not think that the Vice President was prepared to change administration policy on this, even though he may speak his mind more than the campaign would like. I don't think that's what this was. But I think when you have them so close and, frankly, wanting to change their position. You know, you have the HUD secretary Shaun Donovan who said that he's on record supporting same-sex marriage. I think they are moving this closer and closer to the edge, and things like this are going to happen, that they are going to find these opportunities where they are much more forward-leaning and it's very difficult to walk back. So I don't know how they ultimately choreograph this. But the expectation is if they get into a second term, that's when it will be done. And then a lot of supporters are looking at that as much too calculating.
Have a look, via MSNBC:
Have a tip we should know? tips@mediaite.com