CNN Panel Erupts Over Hilary Rosen Comments: 'It's A Tactic Of Divide And Pander'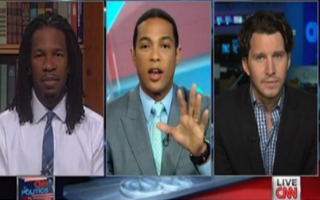 On Sunday, CNN anchor Don Lemon hosted a panel discussion with CNN contributors Will Cain and LZ Granderson on the controversial comments about Republican presidential candidate Mitt Romney's wife Ann Romney made by Democratic strategist Hilary Rosen last week. Cain finally erupted over Rosen's comments and said that Democrats have been dividing the electorate in so many ways that "you're going to get internal firing. You're going to get crossfire." Rosen did that, says Cain, and now the party is in disarray.
RELATED: Not Just Stupid: Outrage Over Hilary Rosen's Ann Romney Comments Is Offensive
"I know this is going to be contentious," warned Lemon after he introduced the panel. Lemon than played the now infamous clip of Rosen accusing Ann Romney of never having worked as well as accusing Mitt Romney of being misogynist. "He [Romney] just really doesn't see us as equal," Rosen concluded. Lemon asked Cain if the Rosen comments would have made such a splash if she had just led with the misogyny line and had not said that Ann Romney had never worked "a day in her life?"
I think she would have just offended a smaller group of people – wealthy women," said Cain. He went on to say that there are two diplomatic approaches that Rosen could have taken. The first, saying the economy is so large and complex, that few individuals have the necessary experience to speak about the whole economy with any authority; the second, saying that everyone is a participant in the economy in some fashion and everyone has authority on the subject.
"What you can't do is say 'this person is sanctioned, this person is valid, this person is invalid and this person should keep their mouth shut,'" said Cain. "You can't say who you want to hear from and who you don't when it comes to economic advice."
Granderson then said that, while Rosen's comments in isolation were confounding, that the entire interview in context was more grounded in reality than the sound bite would suggest. "Prior to that moment, they were talking about how Mitt Romney was using his wife as a touchstone about what women feel about in today's economy," said Granderson. "She didn't use the right words. She should have said Ann Romney never worked outside of the house a day in her life. That's what she meant."
Granderson clarified Rosen's comments, saying that Romney is not representative of the 60 percent of women who work out of the house.
"Is this a creation of political media types," asked Lemon. "Because, quite honestly, I haven't heard that many women talking about it –I haven't heard any." Lemon read comments to CNN on the subject that seemed to object to Romney's wealth rather than Rosen's comments about her. "Not to give credence to what Hilary Rosen said, but there is some truth to that," said Lemon. "If you're wealthy, you can afford five, 10, 15 nannies."
"What LZ has done and what two emailers here have done is just double down on the idea – no, no, we didn't mean to offend women that stay at home; that's work, what we meant to offend was wealthy women, " said Cain. "You may not hear people talking bout Hilary Rosen, because they don't know who Hilary is. But this tactic is becoming so overwhelming – it's a tactic of divide and pander. You divide us on class, you divide us on one versus 99, you divide us on seniors versus those who are under 55 and don't get Medicare and you divide us on gender. And you start dividing us so many ways – you're going to get internal firing. You're going to get crossfire. "
Granderson responded that Rosen was attacking Mitt Romney not Ann Romney with her inflammatory comments. "What she was doing was saying that the source that Mitt Romney was relying on most does not know anything about the 60 percent of women in this country in terms of what they're facing day-to-day," said Granderson.
Watch the exchange below via CNN:
Have a tip we should know? tips@mediaite.com