Colbert Talks To Playboy About Why It's 'Disappointing' When Bill O'Reilly Acts Normally
Colbert Talks To
Playboy
About Why It's 'Disappointing' When O'Reilly Acts Normally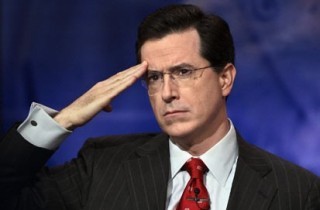 The November issue of Playboy features a wide-ranging interview with Comedy Central satirical host Stephen Colbert, with topics ranging from politics, grief, tragedy, science fiction, and his own television show.
At one point, the magazine asked Colbert about his "ideal guest" for The Colbert Report, and the comedic host responded that "We want someone who represents something, who feels strongly about what they're talking about and will allow for a little dramatic friction. The most disappointing guest is somebody who won't be their personality."
When asked what he meant by that, Colbert explained:
Take Mr. Bill O'Reilly. He was a perfectly lovely guest, but he wouldn't be his personality. He wouldn't be the guy he is on his show. And I don't know why. I went on his show, and I was my personality. That was our deal; I'd go on his show and he'd come on mine. But he came on my show and he wasn't his personality. He wasn't an unpleasant person. He's a perfectly fine guest and I have no complaints other than the fact that I booked Bill O'Reilly and I got William O'Reilly.
Asked whether O'Reilly gave Colbert any advice on punditry, Colbert said the Fox host told him: "'Watch your guest list. If you book the same kind of people over and over—Al Franken, Keith Olbermann—people notice that pattern.' I told him, 'Oh, Bill, I toy with those guys. I'm slapping them around.' He said, 'I know, but not everybody is watching your show as closely as I am.' I was like [clasps hands and holds them to his chest], 'I've totally made it!' That was about five, six months into the show."
At another point in the interview, Colbert candidly spoke about grief and tragedy. When he was 10 years old, his father and two brothers died in a commercial plane accident. An odd moment in the car after the funeral served as an inspiration for him to want to "connect" to others through laughter, he explained.
Colbert also recently extended his contract with Comedy Central through the end of 2014. Playboy asked whether he fears exhaustion from working on the show for another two years.
"I try not to think about it in terms of years. You can't do 161 shows. It can't be done," he said. "All I can do is today and tomorrow and have some idea of what we're doing next week. That's all I can worry about. I have a script for today, I have probably half a script for tomorrow, and that's as far down the road as I ever look. I know the mechanism of my show, and I know how it works. There's a joy in that."
Read the full interview here (Warning: some potentially NSFW imagery in the sidebar).
— —
>> Follow Andrew Kirell (@AndrewKirell) on Twitter
Have a tip we should know? tips@mediaite.com