Conservative Activist Battles Martin Bashir And Guests On The Value Of Fox News: 'Thank God For Fox'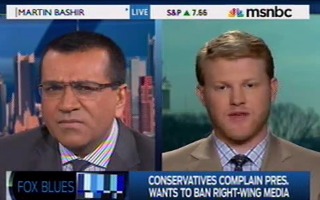 American Majority Action spokesman Ron Meyer went to the mattresses on Tuesday with a variety of personalities on MSNBC, including host Martin Bashir, when he defended the value that Fox News Channel adds to journalism and the national political debate.

RELATED: GOP Activist Group Spokesperson Cites 'Senior Sources' That John Boehner Will Resign Speakership Tonight
Several Fox News contributors have admonished President Barack Obama for being critical of conservative media outlets, including Fox, in a recent interview with The New Republic. Bashir asked Meyer if he was afraid that the president would deprive him of Fox News Channel as well as firearms.
"I'm very happy to come on MSNBC and say thank God for Fox News," Meyer said. "Without Fox News, we'd still think that Benghazi – that that terrorist attack happened because of a video."
"By the way, they have more hard news people than NBC, CNN and everybody else combined," Meyer added.
"Don't forget, also, we wouldn't have had the invented simultaneous video feed [of the Benghazi attack] that they claimed on Fox News was occurring," Bashir countered.
Meyer went on to clash with the host and guests about FNC's famous on-air scuffle between Karl Rove and their network's decision desk regarding their calling of the state of Ohio for President Obama on election night. Meyer claimed that Democratic analyst Joe Trippi, a Fox News contributor, got that correct even though Rove got it wrong.
Watch the exchange below via MSNBC:
> >Follow Noah Rothman (@NoahCRothman) on Twitter
Have a tip we should know? [email protected]