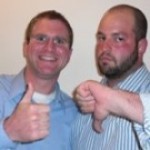 Who: Alec Baldwin interviewed by Janet Maslin
What: TimesTalks' "Live with Alec Baldwin"
Where: The Times Center
When: December 3, 2009
Thumbs: Up
After hearing Alec Baldwin talk about the state of Hollywood, it's easy to understand why he wants out. He says that movies are largely driven by business and marketing today, and the days of great actors are well behind us. Every actor has to make the choice between acting in great, perhaps overlooked films, and blockbuster pictures that earn you lots of money. Fifteen years ago, Baldwin says he made the mistake of going after the money.
Baldwin was very forthcoming about his decisions and his career, just not when interviewer Janet Maslin requested it. In fact, the whole interview seemed like a long charade for Baldwin who alternated between regaling the audience with stories, cracking jokes, making analogies, and doing impressions. Through the chaos of Baldwin's act and contradictions of his words — and his many asides, to the audience's delight — Maslin somehow managed to keep the actor relatively on track.
What drew Baldwin back to the topic at hand was the opportunity to express his admiration for those who came before him on the big and little screens. For the upcoming It's Complicated, a romantic comedy whose screened clips were raunchier than you'd expect from the aging actors, it was the chance to work with Meryl Streep. That seems to be consistent with Baldwin's proclaimed agenda for his Academy Awards' hosting duties in the spring when he'll aim to combine the reverence of the biggest night in cinema with his antics on stage with longtime friend, Steve Martin.
Jack Donaghy, Baldwin's character on "30 Rock," appears to have grown to be more like Baldwin himself, though he claims he only contributes ideas, not lines. After word came out that Comcast was taking over a controlling stake at NBC Universal, Baldwin suggested Donaghy barricade himself in his office. He says that these kinds of meta-references have pleased General Electric's executives, but not so much NBC's people.
Maslin pointed out that earlier in his career, because he was so good looking, not many people credit Baldwin for being funny, despite his work on "Saturday Night Live." Now, and maybe because of his declining looks, Baldwin wryly pointed out, everyone seems to give him credit – be it for his comedic ability, his environmental efforts, or a possible future run for political office.
Everyone, and we suspect Baldwin himself is with that group, is trying to figure out the same thing: What's next for Alec Baldwin?
What They Said
"Movie audiences date you and TV audiences marry you."
– Alec Baldwin is going to stop having affairs

"Public officials deserve a lot more scrutiny than public figures."
– Alec Baldwin believes that the public has no right to know what he does in his personal life
"Comcast is in Philadelphia, G.E. is in Fairfield, and that's all I know."
– Alec Baldwin knows less than Jack Donaghy about the inner workings of NBC Universal
"It's like 'Rocky Horror Picture Show' without the wit or charm."
– Alec Baldwin insults "The Room," but in a way that "The Room" fans would probably celebrate
What We Thought
We found Baldwin's comments about the decline of modern movies fascinating. He claims that John Travolta was the last true movie star, someone whose persona could draw customers to his movies and then deliver on that stardom. Since then, Baldwin says actors are used more to get people into the seats, but it's the technicians who have to do the real work on the product.
After drilling Baldwin on some more serious points, Maslin tried to lighten the mood by asking Baldwin a series of true-or-false questions based on what she read about him online. This Internet fact-check revealed that Baldwin once had a job as a waiter at Studio 54. It also left him wondering whether the audience came to hear him talk about that.
PANEL RULES!
Some audience behavior seems to repeat itself panel after panel. We'll be updating a running list of "PANEL RULES!" that will help ensure that you are not the dweeb of the Panel Nerds.
Panel Nerds don't like…Reminiscers
It was nice of so many of Baldwin's old neighborhood friends (and dentist) to come out and support the Westchester County native. But did they all have to make their ways to the microphone? The first time it was endearing, but by the third and fourth example we were wishing for strangers to bypass the memory keepers in the line. With limited time and access to Baldwin, we wanted to hear more questions and answers. Instead, we heard a series of anecdotes that didn't lead to anything but self-indulgence. Let's keep the focus on the celebrity panelist, not those who shared a backyard with him.
Have a tip we should know? tips@mediaite.com