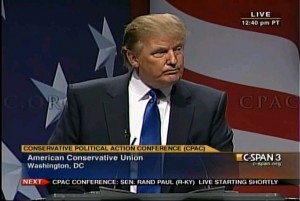 Donald Trump is making it to known to any audience that will listen that he is seriously considering running for President. Today at the CPAC convention he gave a crowd-pleasing speech and, given by the audience reaction, it seems like he very well could be an unanticipated force in the Republican primaries.
Trump fired off a series of tough talking points including declaring that "the world is treating us without respect," we are "missing quality leadership" and that the "United States is the laughingstock of the world." Additionally he had some harsh words for President Obama, who Trump declared "came out of nowhere" and didn't even make an impression on any of his classmates when he went to school, because nobody ever heard of him. Most humorous was watching a large amount of supporters for Republican Congressman Ron Paul who chanted Paul's name get smacked down by Trump who, with his trademark candor, broke the news to them that "Ron Paul cannot get elected, I'm sorry to tell you."
Instead, Trump was eager to inform everyone "if I ran and if I win, this country will be respected again." He declared he was pro-life, against gun control, and would fight to end Obamacare and replace it with something that won't bankrupt the country. With the new season of NBC's Celebrity Apprentice right around the corner, will Trump himself still be considered a serious candidate when he ultimately makes his decision in June?
Watch the clip from C-SPAN below:

Have a tip we should know? tips@mediaite.com