Donny Deutsch On Paula Deen: Can 'Good People' Say 'Wrong Thing' In Culture Where Words 'Stick Forever'?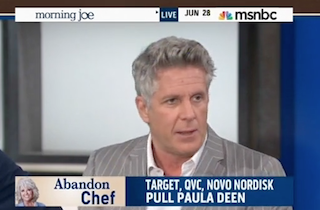 Morning Joe tackled the Paula Deen controversy on Friday morning, taking a look at how Deen's cookbooks are flying off shelves while companies she has contracts with continue to drop her. The roundtable agreed that Deen's past racially charged remarks were unacceptable, Donny Deutsch questioned whether good people can say a bad thing in a culture where everything said and done is essentially etched in stone.
Speaking of the cookbook sales, Deutsch argued that not only is Deen's name plastered throughout media — but the sales can also be attributed to fear of scarcity, the "grab it before it's gone" mentality. With that, the panel segued to the column the Washington Post's Eugene Robinson, who was on set, wrote about Deen. Namely, advising her to "eat some hush puppies, and don't talk with your mouth full."
Beyond Deen's specific ordeal, Deutsch pointed to the larger discussion about our culture and words. "We now know there are two givens our culture — that everything that is said and done sticks forever," he asserted. "And that there are very loose ways that words are used, you and I can joke with each other, you can use — you wouldn't — a Jewish slur with me. It would be very different than something that happens in a different context. We all know about lyrics and whatnot.
Given all that, he asked, "Do we ever get to a point in this culture where good — whether this is the case here or not — where good people can say the wrong thing?"
"There are a few words that are just toxic and will be forever toxic — and Paula Deen said one of them," Joe Scarborough countered. "That is, in 2013, that is the one word that will sink you for good."
Take a look, via MSNBC:

Have a tip we should know? tips@mediaite.com