Emails Suggest CBS's 'Face The Nation' Agreed to WH Demands Not to Ask Kerry About Clinton Emails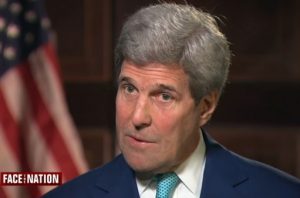 Emails obtained by the RNC and provided first to The Wall Street Journal show that the White House reached out to CBS's Face the Nation to ask that the topic of Hillary Clinton's emails be made off-limits during an interview of Secretary of State John Kerry, and that the White House believed CBS had agreed.
WSJ reported late Thursday that the Hillary Clinton campaign and White House collaborated to present a unified P.R. front when the story broke that Clinton had used a private email server while at the State Department. Accordingly, White House communications director Jennifer Palmieri and State Department spokeswoman Jennifer Psaki exchanged emails to discuss the upcoming TV appearance by Kerry.
Palmieri told Psaki that "between us on the shows… think we can get this done so he is not asked about email." Per WSJ, "that apparently referred to Mr. Kerry, who appeared in an interview on CBS's Face the Nation three days later."
"Agree completely and working to crush on my end," wrote back Psaki.
A day later, Psaki emailed back apparently saying that she succeeded. "Good to go on killing CBS idea," she said. "And we are going to hold on any other TV options just given the swirl of crap out there." Sure enough, Kerry was not asked about the email controversy in the March 15 interview.
In a statement, CBS News denied that anything untoward had happened. "No subject was off-limits when this interview was arranged, as is the CBS News standard," CBS spokeswoman Caitlin Conant said. "CBS News' State Department correspondent was in Egypt with Secretary John Kerry in the home stretch of the Iran nuclear deal negotiations and discussed policy issues of the day with him on this official trip."
[Image via screengrab]
—
>>Follow Alex Griswold (@HashtagGriswold) on Twitter
Have a tip we should know? tips@mediaite.com