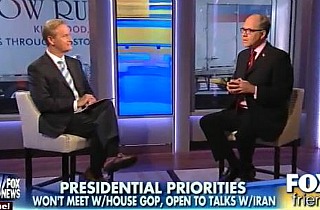 Fox News Channel contributor Peter Johnson Jr. attacked President Barack Obama on Monday's Fox & Friends for entertaining the new Iranian president's outreach efforts toward the United States while simultaneously shunning Republican members of Congress. He said that Obama's embrace of a "murderous anti-Semite" in Iran is offensive when noting that it is occurring alongside his refusal to negotiate with House Speaker John Boehner (R-OH) over the raising of the nation's debt ceiling.

"It's Alice in Wonderland foreign policy," Johnson Jr. began. He said that Congressional Democrats and the president often reserve their most forceful rhetoric for the GOP rather than Syrian, Iranian, or Russian leaders.
Johnson Jr. counseled caution when embracing the Iranian leader's outreach proposals. "I'm saying meet, but meet in a tough way that says, shut it down now," he said. "Let us verify or we're not going to do anything in terms of your sanctions — sanctions that crippled Iran."
"We've got to deal with Iran and we've got to negotiate with them in a strong way," Steve Doocy agreed. "But then for the President of the United States on Friday night to call the Speaker of the House, John Boehner, and say, 'hey, I'm not going to negotiate with you over the debt ceiling. Click.' That sends a message."
RELATED: Who's Really 'Threatening Default'? Carney Spars with ABC's Jon Karl Over Gov't Shutdown
"Let's focus on the real enemy. Let's focus on the real problem in the world," Johnson Jr. added. "The real problem in the world is not the Republican Party. The Republican Party and the Democratic Party are united in their love for this country."
"Let's be as eager to speak with the Republicans as we are to speak with the Iranians and malefactors in this world," Johnson Jr. concluded.
Watch the clip below via Fox News Channel:
[Photo via screen grab ]
— —
> >Follow Noah Rothman (@NoahCRothman) on Twitter
Have a tip we should know? tips@mediaite.com