Fox & Friends Condemns Latest Threat To Youth Morality: 'Vulgar' Joe Biden T-Shirts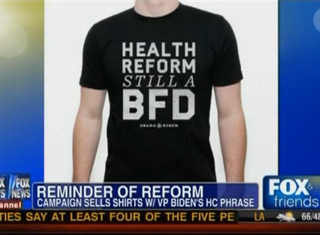 Two years ago this week, Vice President Joe Biden did a very "Joe Biden" thing– he derailed the announcement of the passing of the Affordable Care Act (Obamacare) by calling the event a "big f*cking deal" and getting caught on an open mic. To celebrate the anniversary, the President's Twitter account directed followers to a shirt they could buy to support the reelection campaign that says "still a BFD" on it. Fox & Friends took some time this morning to investigate: does this "vulgar" shirt put our children's morality in danger?
RELATED: Joe Biden: 'Lubricated' Has A Different Meaning For Us All
Host Nicole Petallides commented that, to her, the shirts were "so vulgar" and, particularly in light of the Rush Limbaugh/Sandra Fluke controversy where the President said he thought of his daughters, "what if President Obama's daughters wore that?" Clayton Morris agreed, adding that he wasn't thinking of the President's family, but his own: "would you want your kids wearing a shirt like that?" Morris added, "you expect more from the Presidency of the united states than tweeting a link to a… t-shirt that has a vulgarity on it."
Dave Briggs gauged reaction from the public via Twitter. Says one person on Twitter: these shirts are "appalling and demeaning" (!). Says another, "I'll be buying them for my entire family." So there you go– whether your reaction to this shirt is a la SNL's "Marjorie Grapple" or you think abbreviating curse words is no BFD– plan your outrage accordingly.
The segment via Fox News below:

Have a tip we should know? tips@mediaite.com